First, A Short Personal History…
I can count on one hand the number of revolvers I've loved shooting. It's 100-percent a "me problem," and an old Colt King Cobra may have ruined every other revolver for me going forward. I've always been more attracted to semi-automatic handguns and have always chosen a semi-auto for concealed carry.
Related: How a 80's Colt King Cobra Changed My Mind on Revolvers
I don't know if it's age catching up to me, or if I'm finally at the step in my firearms journey where I find revolvers appealing, but as soon as I set eyes on this 856 Executive, it felt like a gun I wanted to shoot. Normally revolvers don't do that for me.
Turns out there is a lot more to like about the Taurus 856 Executive than just its looks.
What is the 856 Executive?
Before the Executive model came along at NRAAM last year, the 856 lineup enjoyed a lot of success among revolver fans. It marked an affordable entry point into revolver ownership and could bridge the gap between concealed carry and home defense. Whether you wanted the snub-nosed 2-incher or a more robust version like the 856 Defender with the VZ grips, Taurus was a reliable answer for many new gun owners.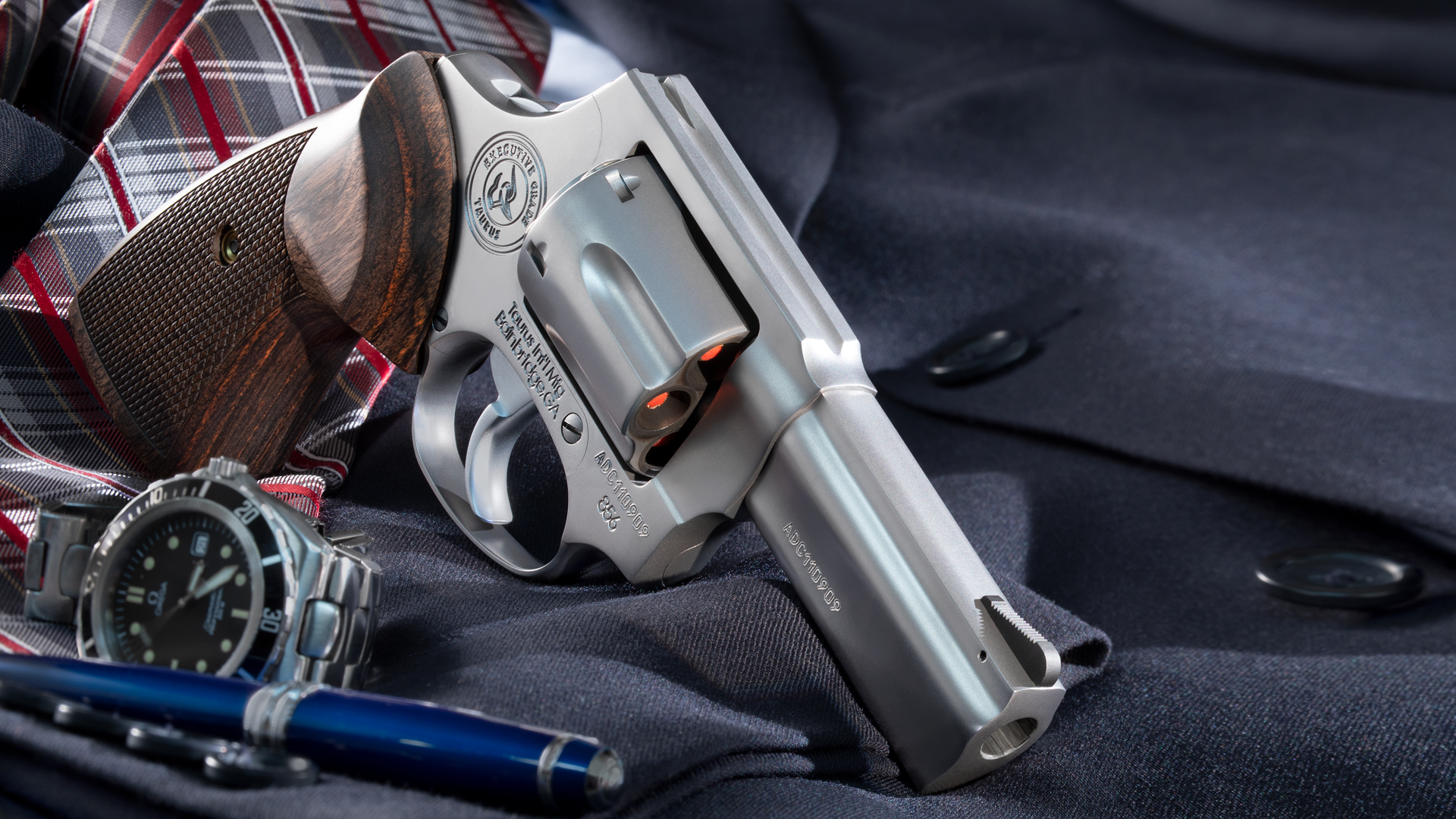 Related: Factory Tour – Taurus is Thriving in Southwest Georgia
The 856 Executive is essentially an upgraded 3-inch-barreled 856 Defender and is the flagship revolver in the Executive lineup, which now includes the Executive Judge as well. Taurus looked to take what people liked about the 856 lineup and upgrade it with tasteful features. First, the performance is backed by the limited lifetime warranty, but the wheelgun also comes with the peace of mind of knowing that a single gunsmith worked on it from start to finish.
The single-gunsmith approach ensures accountability behind the product while adding attention to detail. This single gunsmith idea has been done by countless companies, from Smith & Wesson in its Performance Center to Nighthawk with its 1911s, to produce highly sought after guns. Taurus hopes to create the same loyal fanbase for the Executive lineup that other companies have lured, while upgrading the performance and appearance of the original 856 lineup.
But can this new approach work for a budget-minded manufacturer who has been focused on high-volume production?
Upgraded Style & Performance
The most immediate appeal of the new Executive lineup is the look of the gun. The brushed satin finish mixed with the walnut checkered grip screams class, and the "Executive" name fits. The grip fills my average-sized hands well, and although it feels a little slick in the hand, I wouldn't change it because the style of the gun is the reason I like it. The slickness of the grip does come into play on the range, but more on that in a minute. The brushed stainless look does help cut down on the glare when you're at the range on a bright, sunny day, too.
I have never fired an original 856, so it's tough for me to say how much of an upgrade the Executive is over the original. Of the modern revolvers I've fired, it certainly holds its own as one of the nicest. The double-action only (DAO) trigger pull and timing are smooth on this. Sure, it's not as smooth as that early '80s Colt King Cobra I had, but I wasn't expecting that either. The lockup is also tight but does offer a little wiggle – again nothing of the old-school craftsmanship that once was, but for a modern process this all seemed pretty good to me.
The trigger pull is heavy and long, which is kind of the point of the DAO revolver, but it's smooth and the break is expected every time. For a DAO trigger it's not that heavy, either. I've certainly felt heavier and longer. I appreciate the concealed hammer for those who wish to carry this gun – a feature not offered in the traditional 856 Defender model. The Executive's fixed rear sight, appreciated for its discreetness in a carry gun, is the same as the Defender's.
Finally, there is an Executive-grade stamp on the gun, letting you know that you've been upgraded. All of this comes in a nice Pelican Vault case, a great way to store the gun or transport it to the range, along with a letter letting you know you're now in the Executive club.
Before we get into the performance on the range let's look at the specs.
Specs
Caliber: .38 spl +P
Capacity: 6 rounds
Action: Double Action Only (DAO)
Barrel Length: 3 inches
Overall Length: 7.5 inches
Height: 4.8 inches
Width: 1.41 inches
Weight (unloaded): 25 ounces
Range Time
As I alluded to earlier in the review, I haven't shot a ton of revolvers, but after messing with this wheelgun at NRAAM and dry-firing it at home, I was eager to get it to the range. My one big hesitation with this gun was the rear fixed sight, since that would be a skill I wasn't used to working out. It's nothing like shooting a semi-auto and even with dry-fire practice I was worried I would be way off during live fire.
Once I got it on the range, that fear quickly dissipated with the slower and more paced firing. I found the gun pointed naturally and the sights were quick and easy to pick up. It also held on target much easier than I was expecting as well. The trigger felt as great on the range as it did during live fire, very smooth which made for fun shooting. I was able to keep defensive use groups at my indoor range at 25 feet on paper, but I was also able to hit an IPSC-style steel target at 20 yards regularly at the outdoor range.
Most people who shoot more than me might scoff at that statement, but for shooting my first revolver in over two years, I felt happy and confident with those results. I started out shooting PMC Bronze , but after 30-40 rounds switched over to Federal Punch for 100 rounds, then finished up with Fiocchi for another 20 rounds.
Punch is a +P hollow point self-defense ammunition and delivers an additional 75 fps when compared to the slightly heavier bullet in the PMC. Let me tell you, it's a noticeable difference! The Punch is aptly named, and after shooting just a single run-through, I could tell this is a round that I could count on in a self-defense situation. The recoil does kick up a notch, which should be expected with a +P round. I think the tradeoff is worth it, given the increase in lethality but also the increase in accuracy that I saw with the Punch.
Plus, guns with zero recoil impulse can get a little boring after a while. Give me something that bites a little! Shooting this revolver became quite enjoyable over time, even with that extra twang of +P, but shooting a revolver is still a slow and cumbersome process for someone like me. Through all ammo types, I would estimate that I'm only 150-ish rounds into this gun, which isn't much compared to most semi-autos that I review. Part of that is just the different process at the range and the differences in training on the two platforms. Either way, there were no problems to report – not that I would expect any from a revolver with such a low count.
My one knock on the gun is that it's tough to maintain a solid purchase on the grip. I felt like after every couple shots I needed to readjust the gun in my hands. I could either opt for some different grips, like a nice pair of Hogue grips would surely solve the issue, or I could practice more with a different style of revolver grip that would secure the gun better. I tried a couple different methods but none of them totally solved the issue.
While I was still discovering the intricacies of shooting a revolver and trying to get faster on the range, I found myself enjoying the experience. Could it be that I was falling for this 856 Exec with its sleek lines and satin finish? Could I actually carry and rely on it?
Carrying the Executive
I was so smitten with this revolver that I decided to reach out to the fine folks at Galco, who were nice enough to send over a Combat Master in black leather for the 856. Galco is known for making some of the best leather holsters in the business, and this one was no exception. The quality is immediately felt when it's picked up. Now, it is an OWB holster and if I'm telling you I have little experience with revolvers, I have even less experience with OWB holsters in this style.
I have plenty of gripes against OWB carry and this specific style of holster – that's a different article for a different day – so I couldn't help feeling like I was setting myself up for disappointment. Regardless, I still wore it around the house and even ventured out of the house a handful of times with it on my hip as a backup gun. I still don't trust myself or my training enough to call this an EDC-type of gun for me, but I certainly didn't mind calling it a backup.
Dry-fire training with this specific setup proved to me that the draw and target acquisition process was still going to be a challenge. My target acquisition speed did get faster with time and practice, but I'm still nowhere near the speed of my P365 in an AIWB holster from Vedder Holsters. Perhaps that's an apples-and-oranges comparison, and perhaps I could become as fast with a revolver one day, but the time and practice needed right now doesn't justify making the switch to this as an everyday carry gun.
I will say the whole rig is very comfortable and really nice for sitting in a chair and typing on a computer. In fact, it's much nicer than an AIWB holster in that regard, so I will give it some points there. I pointed out that the walnut grips felt a little slick in the hand, but that adds to the comfort in carry as well.
During the winter months here in the great north, I had no problem concealing this. Whether it was under a coat or under a hoodie, I felt like it blended in at the 3 o'clock position. I suspect that could change in the summer when tank tops and flip flops become my regular attire. Finally, I will say that the weight surprised me in how light it was. I think the holster certainly plays a part in the weight distribution, but going into this I expected this gun to be much heavier and cumbersome to carry.
Pros and Cons
Pros:
Stylish appearance at a budget price
6 rounds of .38 Spl +P
Long, smooth trigger pull
Concealed hammer makes for snag-free draws
Aftermarket accessories for 856 Defender will fit
Comes with very nice Pelican Vault case
One gunsmith approach and lifetime warranty
Cons:
Walnut grips, while very stylish, feel a little slick in the hands
Feels a little sticky to pop the cylinder out compared to older revolvers I've worked with
Conclusion
Overall, the 856 Executive made a great impression on me, and I might just keep it around. I don't yet have a revolver in my collection, and I think it's high time I add one. While I really wanted an old Colt snake gun as my first revolver, I just don't have that type of scratch lying around. I think this would make a fine and handsome addition to the gun vault, and one I would enjoy taking to the range. With an MSRP of $689.99, and a street price quite a bit lower, Taurus has made the single-gunsmith revolver both attractive and affordable.