In modern art culture, tattooists have formed a certain trend towards the development of a unique and inimitable style. Artists spend years in search of a cherished idea that will bring them global fame and richness. Unfortunately, for many, this search turns into building a complex artistic framework for himself, and the result is another style "incomprehensible" by the public.
But what if your talent is not limited to any one style decision?
Yes, you are right! Today we want to introduce to you a tattoo artist without any boundaries. She is superbly working in graphics, watercolors, microrealism and many other styles. And most importantly – not just working, but creates real masterpieces. Please meet Daria Boyko.
Daria, tell us a little about yourself for those who for some reason do not know you yet.
– Hello! I'm Dasha, a tattoo artist. I've been living in Moscow for the 7 years, 3 of which I've been doing tattoos in a small cute studio @tattoo_naive, sometimes I visit Redrum, sometimes I come to work in St.Petersburg.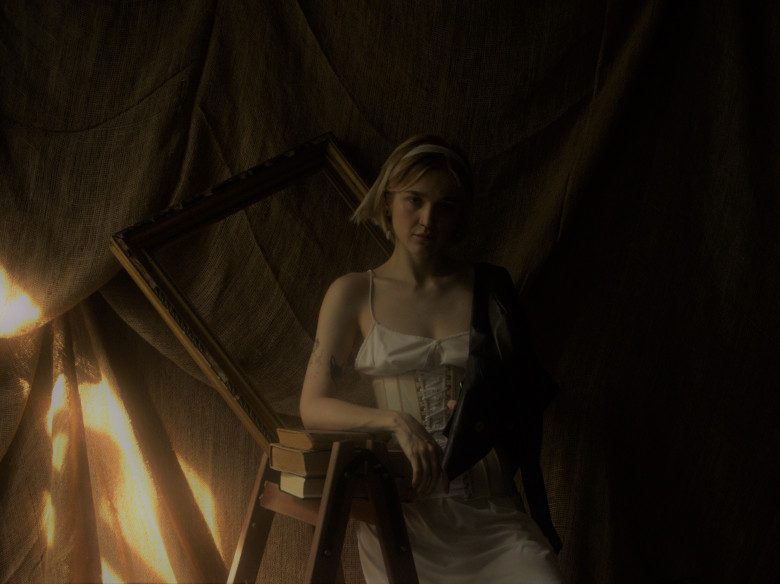 To be honest, we rarely meet a tattooist who works equally well in a large number of styles. But from under your hands come masterpieces in botanical watercolor, abstract graphics and microrealism. How do you do it?
– Meow, thank you, my ears even reddened a little. I can't call myself a generalist, cause I simply haven't mastered many styles yet.
To be honest, it happened by accident. I greedily took on every project from the very beginning, absorbing more and more information, making mistakes and correcting them, sometimes understanding during the process which needle is better to use in this particular case.
The home studio gave me a lot of clients, for which I'm wildly grateful. And I used it to the fullest, working for the first two years almost without days off. For example, working for 10-12 hours with 5-7 people per day and after that preparing sketches for the next day has become the norm and a necessity. Now I rest much more, but still living to deadlines and I can't draw anything in advance. Somehow, clients endure me. Love them.
So what does your typical working day look like?
– Heh. Wake up, stretch a little. Coffee. Porridge or sandwich. Post stories, reply to everyone on Instagram, send cat videos to friends. Put on something, procrastinating right up to the start of the session. Instead of a quiet 7 minutes of walk to work, I run 15 minutes to the studio, picking up a bun with orange jam from the corner bakery along the way. Not a single day without it, we agreed with the baker on the necessary fresh bun with orange jam every morning. Send a message to the client that I'll be soon and ask not to hit me. Come to the studio, hug the girls. Work. Coffee. Work. Coffee or tea. Better coffee. "Accidentally" take away a cup with coffee from the admin, it tastes better. Work. Wander home, call a friend. Post new work in stories. Answer everyone. Send my friends cat videos. Sketches for tomorrow. Go to bed at 2 am if possible.
Every day is different, but if you remove all the excess, you will be left with a typical day.
Did you have any teachers?
– I was taught by my eyes and operational memory, which tried to process a photo of a finished work or a piece of video on Instagram, where for a few seconds you can see how a tattoo artist works. The big problem was the color that I stubbornly tried to make friends with. There was no one to tell me how to do it. I still don't really understand how I began to work with it, I actually love black works.
And what about an art education? 
– I have no art education. Perhaps it would be easier with it, but its absence definitely does not interfere. If you think a little longer and be attentive to details, everything will be ok. And this applies not only to miniatures, sometimes abstractions puzzle me no less than a portrait of a fluffy pet.
Why did you choose this path of working in many styles, and not the path of finding your own narrow genre? Or are you just in this search?  
– I'm just greedy, I want to embrace everything. It seems that I will die of boredom if I do the same thing 24/7. Before, I was very disappointed that I couldn't find time for this "search", I thought it wasn't "true". But one day, when I was getting a tattoo from Tanya @yorayart, I also received good advice: "Take it easy! Clients will decide what are you going to do next, just make it well and that's it." So I relaxed and focused on quality. Recently I like to work with abstractions, large mythical creatures, I relax on them and often work much faster. In fact, the same time can be spent on an abstraction on the whole thigh and a small picture stuffed with details.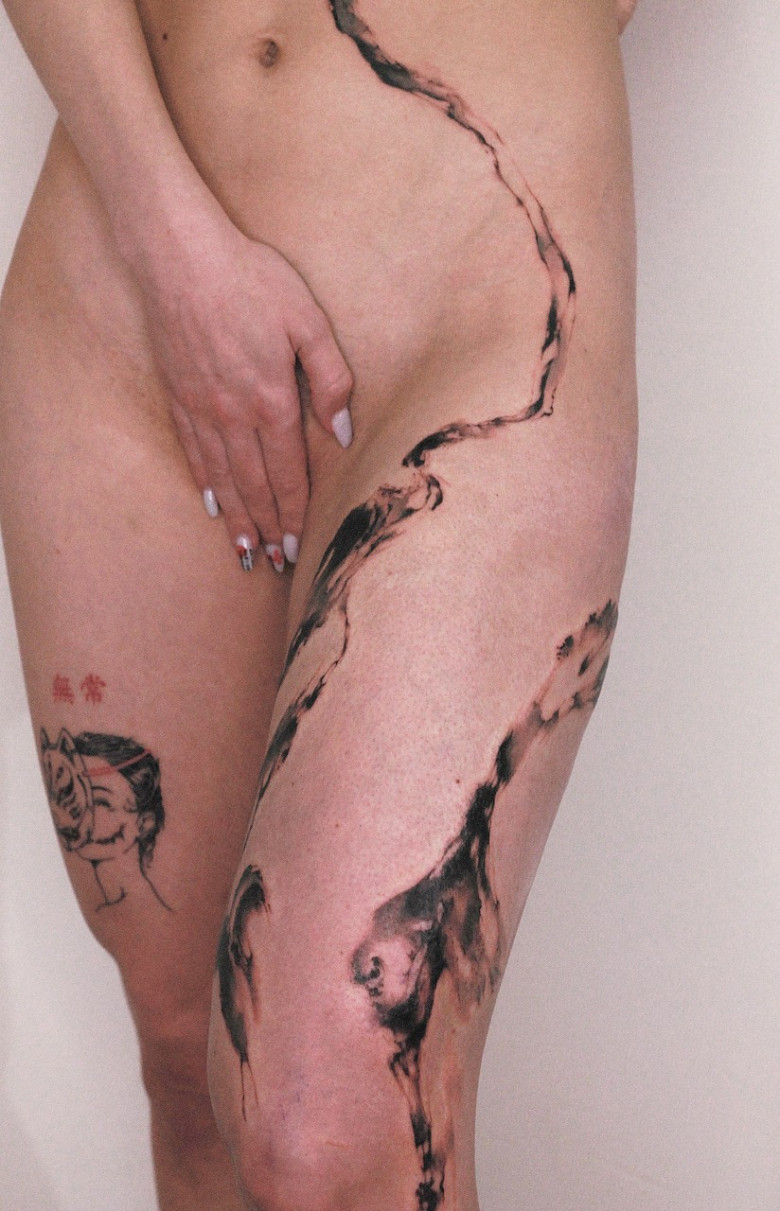 Which style do you use best reflects your inner state?
– Abstractions reflect me well, the same mess inside me. Dragons too, they are incredibly beautiful pies, I love them!
Who or what are you inspired by?
– Everything and nothing. Just enough visual experience for now. Everyone comes with their own idea, which I just need to digest.
"By whom" – the question is simpler, I will list a couple of people. From tattoo
Do you have any favorite projects or projects that you are particularly proud of?
– Hmm, the answer is on my knee. There is an unfinished work based on paintings by Takato Yamamoto. It is unlikely that it will be completed in the near future, but this is not so important. Because nearby is another tattoo that I made myself just three years ago. There is a noticeable difference among them, and I am delighted.
Tell me who are your clients? Are there many foreigners among them?
– Mostly girls aged 18-40 come, sometimes guys come, but they are infrequent guests. It's a little more difficult with foreigners – recent years have not been the most pleasant for trips, heh.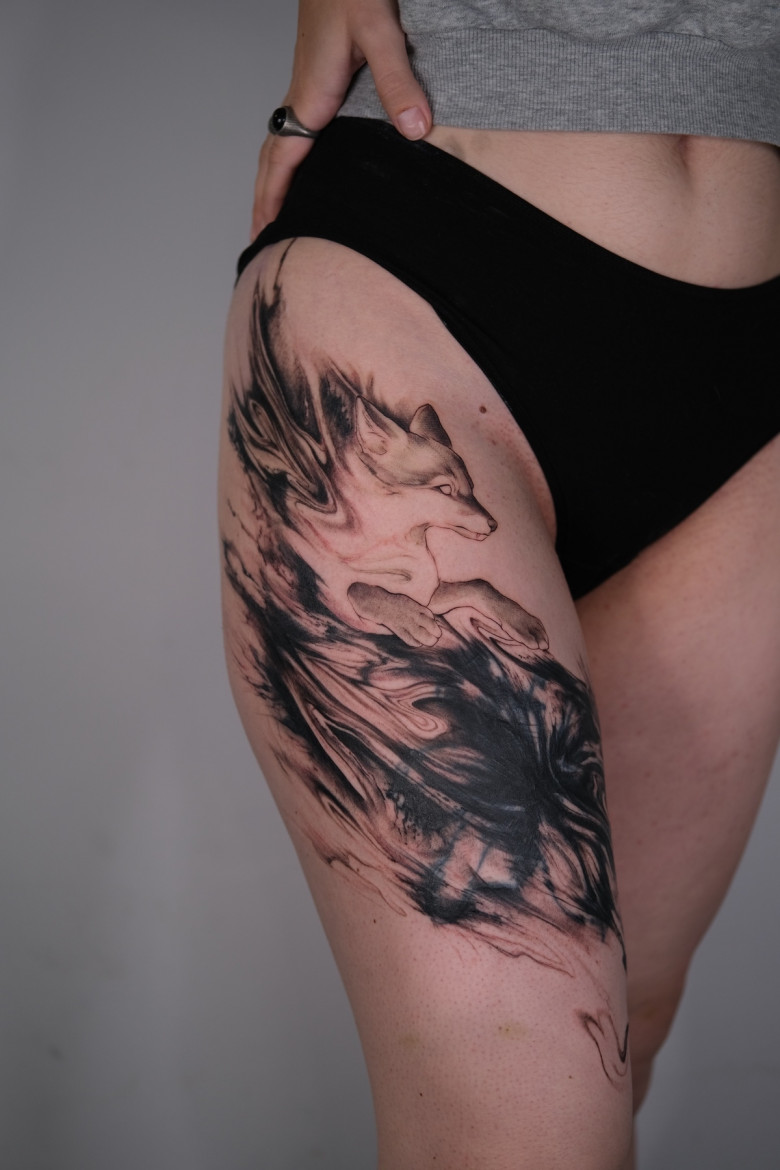 And what about you? Did you travel a lot? Where have you already been?
– I traveled very little and all for my studies: I spent half a year at the University of Lisbon, and during the same time I swept across Italy from north to south with a friend. Then I didn't know how to relax and absorb the beauty around, so there are almost no sensations left. For work, I only travel to St. Petersburg, but this must be changed.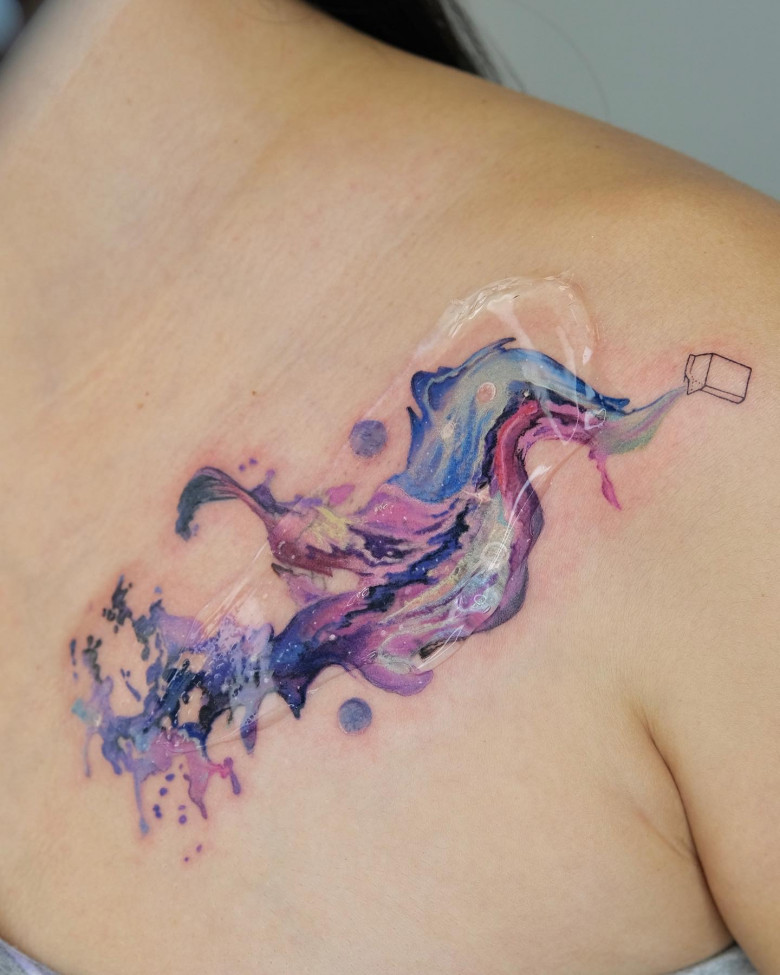 And where do you want to go?
– Perhaps I will be trivial, but I need to see the Austrian Alps, visit Kazakhstan, get to Mexico, live in Japan, get to know Canada and the States. And this is just the tip of the iceberg of wishes.
Is tattooing an art, a job, or something else?
– Hmm, for me this is the strongest support in life, a partner, a comrade and a whip. My tongue cannot classify my works as art, but if after many years people who once came to me or your neighbour John, it doesn't matter, will bequeath their skin to museums, skin itself will be an art object. This is a fairly simple fact.
What are your main goals in life and in career?
– In my career: probably grow up to the level of those tattoo artists whose work almost makes me mad at how well they are done. This internal race is unlikely to ever end. In life it's easier: to see as many countries as possible, to try as many delicious foods as possible, to get a cat.