The very rare birth happened on Wednesday 23 March at a hospital in Vinaros, a city in the province of Castellon in Spain's eastern Valencia region.
Gynaecologist and obstetrician Ana Teijelo, who was in charge of the medical team that carried out the C-section, said: "Today at the hospital of Vinaros we had a veiled caesarean section (2nd twin) and here you can see the enthusiasm of the participants."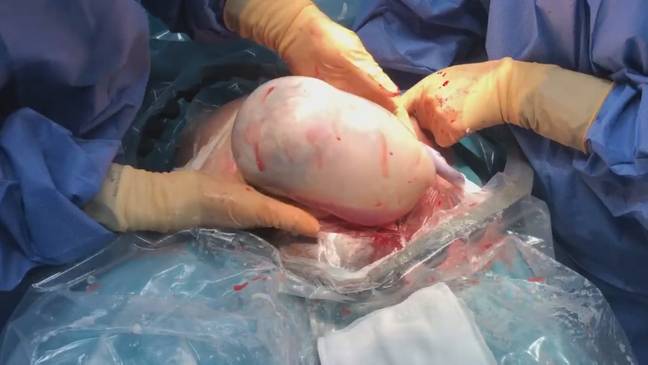 She added: "Because there are days that make us remember why we're in this. I share it with permission, of course."
A veiled birth – also known as a 'mermaid' or 'en caul' birth – happens when the baby comes out still inside the intact amniotic sac, and is said to occur just once in every 80,000 births.
The amniotic sac is a thin, fluid-filled sac that surrounds the foetus during pregnancy and helps protect it from injury and to regulate temperature so that the unborn child can stay warm. It normally ruptures when someone goes into labour, a process that is often referred to as one's 'waters breaking'.
En caul births are more common during caesareans, often used for twin births, but can also occur in vaginal births.
Teijelo continued: "Beautiful photos, don't you think? The first veiled caesarean section I've seen and I loved it, and I'm not telling the students anything (although I admit that I'm the one screaming). It happens about once every 80,000 deliveries and today our students have had a 10-out-of-10 day.
"The twins when they were born were extremely well. All the staff enjoyed the delivery: midwives, gynaecologists, paediatricians, anaesthesiologists, nurses, nurse technicians, caretakers, students and, of course, the mother. And here are the protagonists, small and large.
"And to leave a memory of this moment, our staff have made a painting for the mother by printing the placentas and it looks beautiful, really. Being good professionals is not at odds with being empathetic (don't be scared when you hear the word placenta, really).
"So to all future doctors, medical students… remember: in all hospitals you can learn a lot. The most important thing is to never lose enthusiasm. A day like today compensates for many others. I will never tire of looking at these photos."
Woman contracted rare life-threatening condition after swimming in sea near sewage
Published 15:17, 02 September 2023 BST
| Last updated 15:17, 02 September 2023 BST
A woman ended up in hospital after going for a swim off the Welsh coast.
Caitlin Edwards, 22, had been on a bank holiday trip to Pembrokeshire with her mum, and had decided to go for a swim in the sea while on the trip on 24 August last year.
But Caitlin ended up undergoing an horrific ordeal, being rushed to hospital after contracting a rare and life-threatening condition while swimming in the sea, describing her experience as 'absolutely horrendous'.
The 22-year-old had inadvertently swum near a patch of sewage that had been spewed out into the water. She subsequently contracted E Coli, which led to a rare and life-threatening condition called haemolytic uraemic syndrome (HUS).
This is a rare kidney condition, which can lead to kidney failure, and in severe cases can even impact the brain, heart, gut, liver, and pancreas.
Caitlin ended up requiring multiple blood transfusions, and kidney dialysis during her five-month-long recovery period.
Her mum Jayne Etherington was furious that sewage had been allowed to leak into the sea near to where they had both gone for a swim at Wiseman's Bridge.
The mother and daughter were later led to believe that the sewage had been the result of a spill from Welsh Water Combined Storm Overflows.
Jayne told WalesOnline: "We were allowed to believe it was a CSO spill. No-one said: 'This is something more serious.'"
Public Health Wales subsequently carried out a full investigation into everything that Caitlin had eaten and drank in the days leading up to her becoming ill. The investigation found that the most likely cause of her sickness had been untreated sewage which had contaminated the sea water.
Welsh Water confirmed that this spill in particular had not come from one of their plants. Meanwhile, the county council said that it had placed signs on the beach "acting on information received regarding a pollution incident from Natural Resources Wales".
Nicola Mills, the environment lead for Natural Resources Wales, confirmed that the spill had been due to a 'private discharge point failure'.
She added: "The owners of the private discharge point acted immediately to resolve the issue as soon as possible. Our officers have visited the area since and there have been no further concerns witnessed or reported.
"Around the same time there was also an ongoing CSO discharge therefore it was not possible to pinpoint sole responsibility for the failure of bathing water sampling at Wiseman's Bridge."
Samples drawn from Wiseman's Bridge on the same day returned a failure in bathing water quality.
Jayne has also urged anyone who became ill around the same time and area to get in touch, with there being numerous anecdotal reports of others becoming ill after swimming there.
Caitlin has since made a full recovery.
Twin Baby Born In Amniotic Sac In Extremely Rare Birth
Published 14:04, 06 November 2020 GMT
WARNING: CONTAINS GRAPHIC (BUT PRETTY COOL) CONTENT
Amazing images show a baby in Brazil that was born inside the amniotic sac – an extremely rare event that occurs in just one in 80,000 births.
The baby's mother gave birth to twins Brayan and Emanuel at a hospital in the southern Brazilian city of Criciuma on 5 November.
Often twin births involve a caesarian section, and the amniotic sac is broken.
However, the twins' mother Keila Barbon Henrique not only gave birth vaginally, she also did so with Emanuel still inside the liquid-filled amniotic sac.
Despite being very rare, births like Emanuel's are not dangerous.
Keila and the baby's father, Gilmar Concatto da Silva, live in the neighbouring municipality of Forquilhinha.
Brayan was born weighing 2.546kg (5.613lbs) and measuring 44cm (17.3in), while Emanuel – the younger twin by nine minutes – weighed 2.346kg (5.172lbs) and measuring 44.5cm (17.5in).
Emanuel was removed from the transparent membranes by the medical team.
The mother and twins are all doing well, according to doctors at the hospital.
Last year, similar images surfaced that showed another baby delivered while still inside his amniotic sac.
The little boy was delivered by caesarean section at 36 weeks in Fuzhou, Fujian, East China, weighing 2.5kg (5.5lbs).
Medics at the Fujian Maternity and Child Health Care Hospital said they decided to deliver the baby while in the sac – also known as 'en caul' – during an emergency C-section in July this year after discovering that the baby was in the breach position.
The boy didn't breathe on his own for around two minutes after he was delivered, until doctors cut the protective sac open.
Doctor Pan said: "Newborns usually cry shortly after being born as their respiratory system is introduced to the new surroundings.
"But when this boy was born, still in his amniotic sac, it was as if he were still in his mother's womb.
"It was not until doctors opened the membrane and cleared the amniotic fluid from his respiratory system that he began to cry – a full two minutes later than normal babies."
Doctors decided to deliver the baby due to various complications, including the infant being in breach position and a condition called velamentous cord insertion, which means the umbilical cord doesn't attach in the centre of the placenta as it should.
Doctor Pan continued: "We opted for this procedure because preterm babies are weaker than full-term babies.
"As premature births are among the main reasons for infant mortality, an en caul birth allows the newborn to be delivered inside the same protective membrane.
"This reduces moisture loss on the skin, avoids rapid temperature loss after a preterm birth, and decreases the risk of the infant being harmed during a C-section.
"Even if an en caul delivery were unsuccessful, the baby could then be delivered via a traditional C-section, so it's just one more option to have."