A little dog is causing a sensation since passersby read his family's message to throw his toy to him.
A sign will always have the purpose of informing and persuading readers to respond positively to the previously defined objective. In view of this, a family did not hesitate to make a sign so that all passers-by would react in the best way and together take care of the spoiled and mischievous puppy of the house.
This happened in Milan, Italy, when a family decided to hang a sign on the front door of their house to inform about a little dog that likes to have his toy thrown to him from outside so that he can run to fetch it and return it from the front yard of the house.
Next to the puppy was a warning sign filled with lots of love and complicity.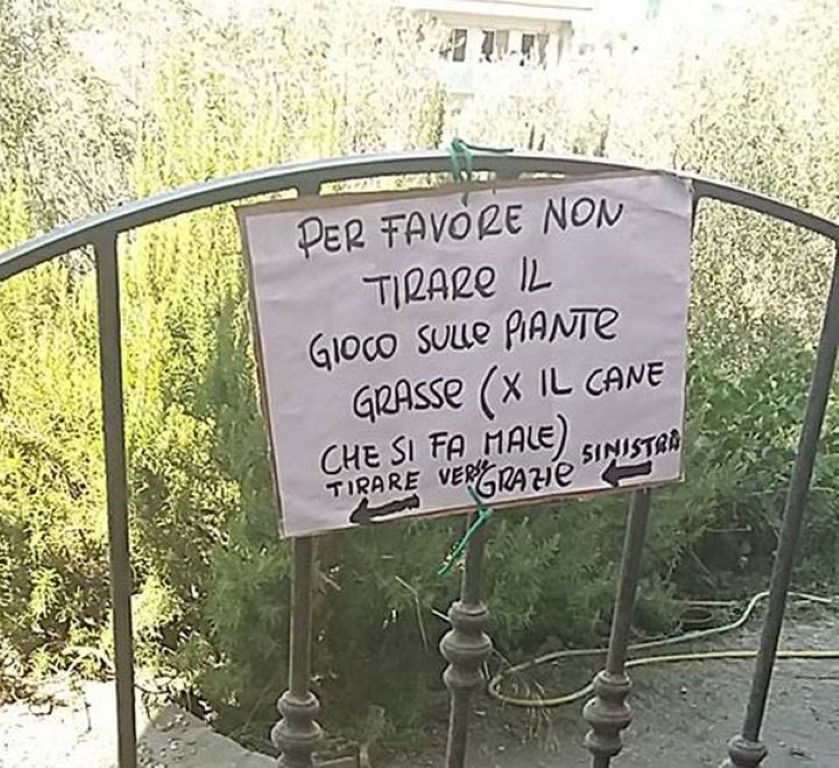 Caterina Dellanoba was one of the many passers-by who came across the eye-catching sign, she could not go unnoticed and paused to play with the puppy following the indications. The sign read:
"Please do not throw the toy into the cacti (the dog will get hurt). Throw to the left or right. Thank you."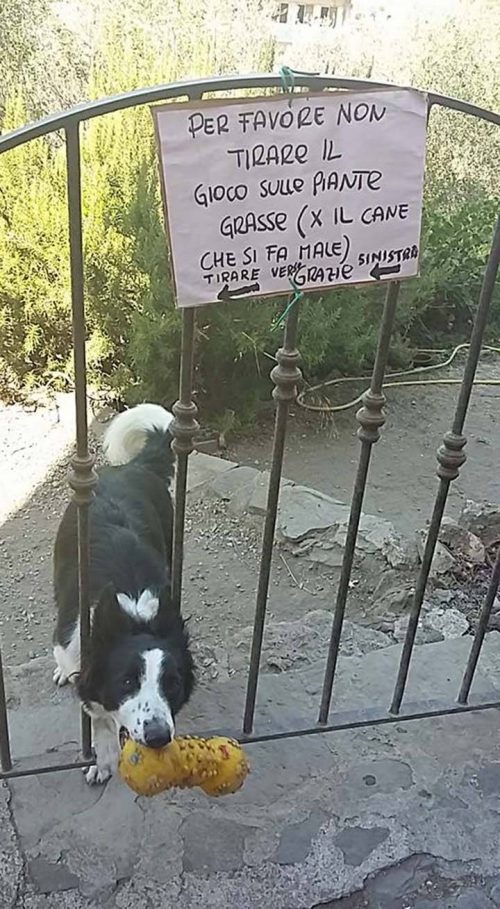 Evidently, the puppy's family knows that he is very playful and will not miss the curious pause of any passerby to stick his head out between the bars and look at them sweetly until they manage to play with him.
The sign fortunately makes it clear where they should throw the toy to prevent the adorable furball from getting hurt. On this Caterina commented:
"Then this kind dog appeared with his little toy. He looked at us, wagging his tail, then picked up his toy and poked his head over the fence. It was wide enough for his head to fit comfortably, but not wide enough for his body to fit through, so he was safe."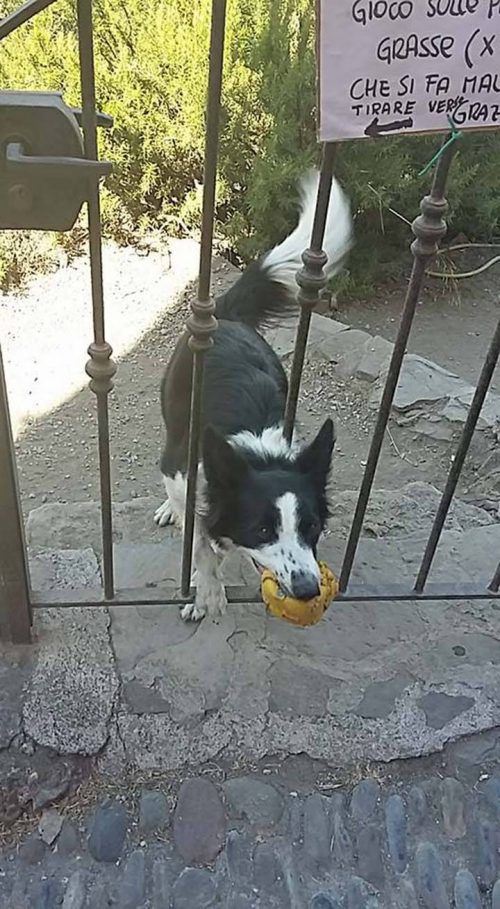 For this sweet little dog the most important thing is to make friends and play with them for as long as necessary, so his family decided to make the sign to make sure his hours of outdoor fun are as safe as possible.
This young lady fortunately responded to the doggie's request and made sure to throw the toy far away from the cactus, for several minutes she repeated the operation, threw the toy and the mischievous furball would run away, look for it and come back to her.
Playing is very important for puppies, it not only strengthens the bond but also helps them to drain energy.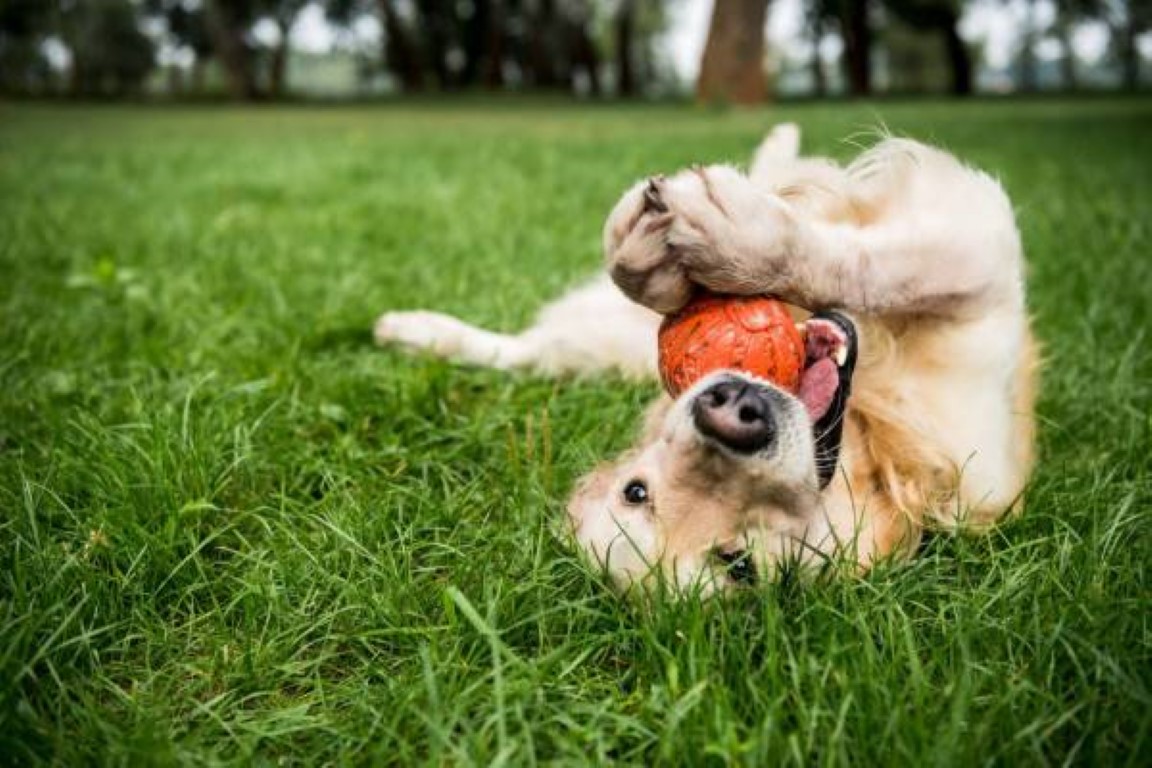 After about 10 minutes of play it was time for Caterina to go on her way, although her new friend was not too keen on the idea.
However, the young girl had so much fun with the little dog that now every time she passes by the house she stops to play with her canine friend, although for him the play time they spend with him never seems to be enough.
"I play with him every time I pass in front of his house, but I always interrupt the game, not him – I don't think he ever stops!" said Caterina.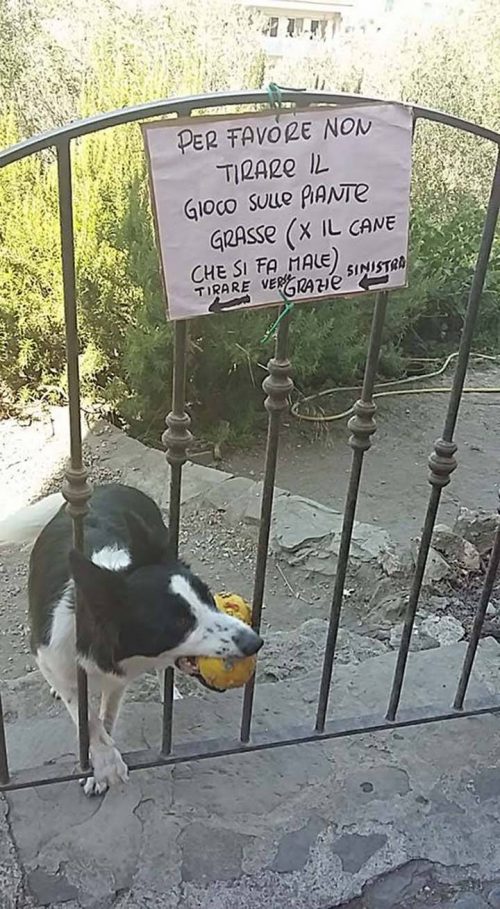 The publication has attracted a lot of attention from netizens, there are many who are fascinated with the little dog who loves to play with strangers and with the idea of his family to take care of him by giving the indications of the sign. Among some of the most popular comments, one reads:
"I wish everyone who plays with him would heed the warning!", "They are like children, always happy waiting for you to play with them, even if you are tired or angry they always come to bring a smile to your face. What a cute little dog, they have a heart of gold".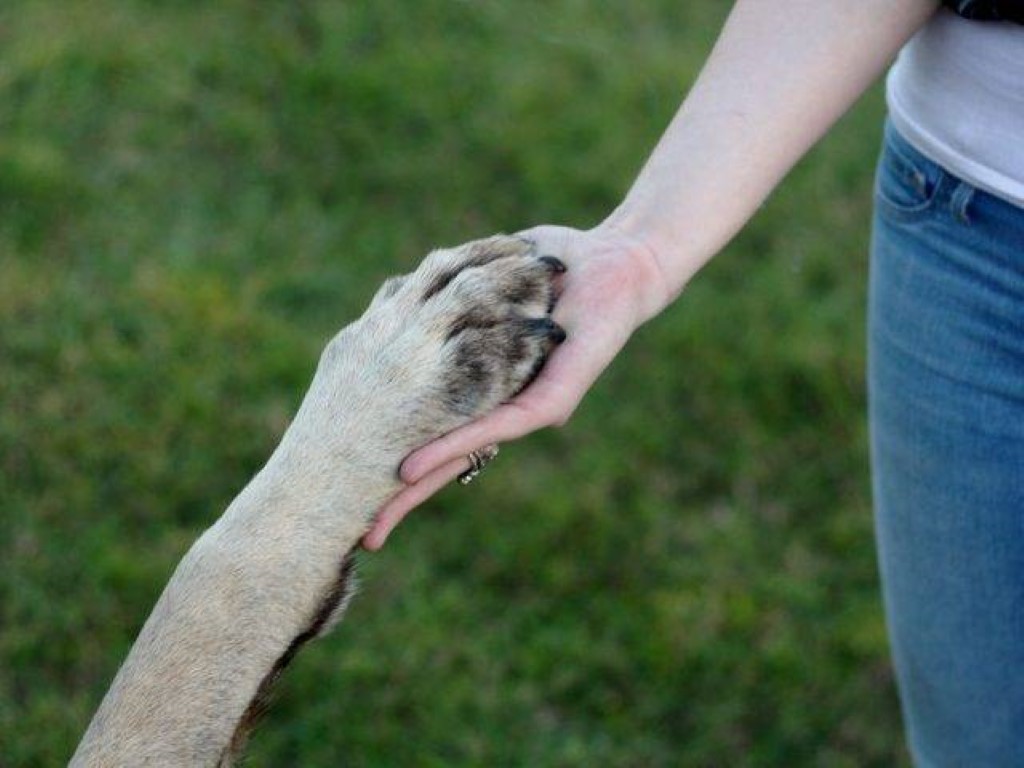 For this sweet doggy every day is full of adventures and great friends. We are happy to know that people respond in the best way and are always there to be part of his happiness.