Justice is a pitbull that has had to face a terrible situation, he was the victim of unscrupulous people who are far from understanding that dogs feel and suffer like any other living being.
The pitbull was rescued from the streets when he was only two years old, his condition was really worrying, his little body was covered with severe chemical burns that indicated that they had been done on purpose.
Pitbull cruelly mistreated manages to survive thanks to the unconditional love of his rescuers.
Fortunately, he was discovered by staff members at the Shebyville/Shelby County Animal Shelter as he wandered crestfallen and in great pain through the streets of Indiana.
Although it is unknown how he managed to survive in such conditions all alone, it is truly a miracle that he is alive today.
The little dog was rescued in late 2018.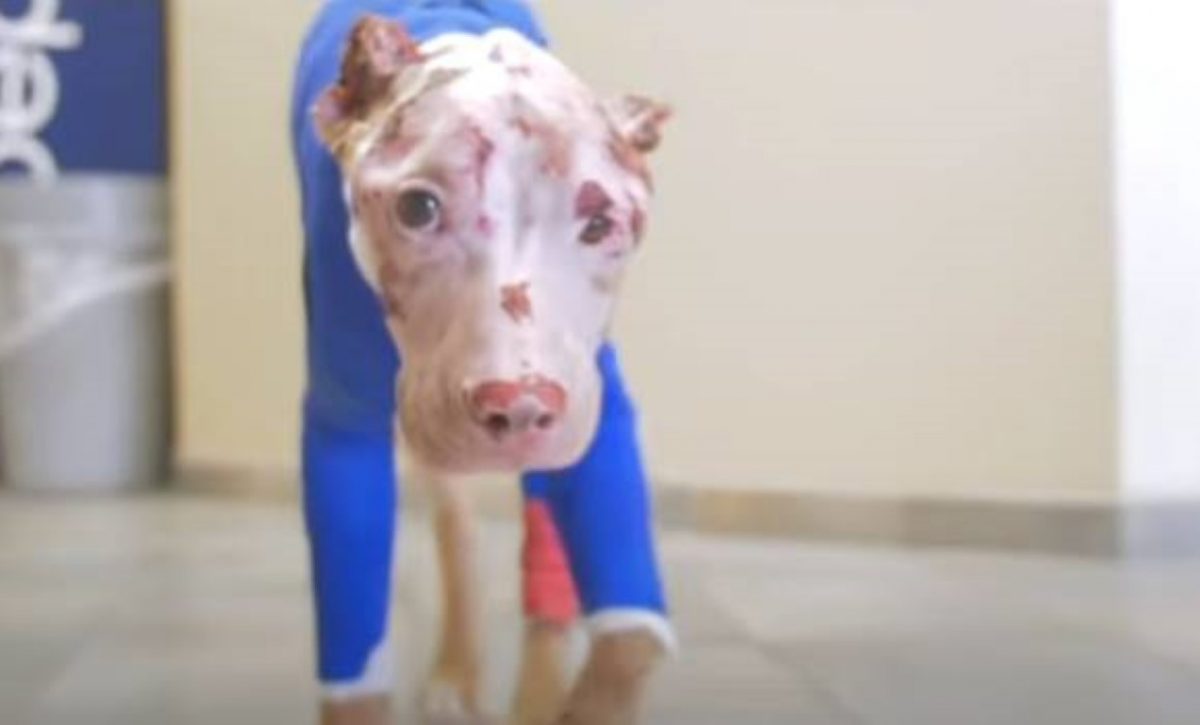 Justice was fully supported by the organization, received the medical care he needed and was always very responsive to the staff.
His body was injured and very deteriorated, but he had an inner strength that helped him overcome the difficult situation he was in.
Due to the extent of the burns, he was covered with bandages for a long time. It was a complex recovery process, but little by little his skin began to heal and his coat grew back. Regarding the organization he commented:
"He has made significant progress since he was brought in, his bandage changes need to be done frequently.
He has a long way to go, but the staff and volunteers help him feel loved like any other dog."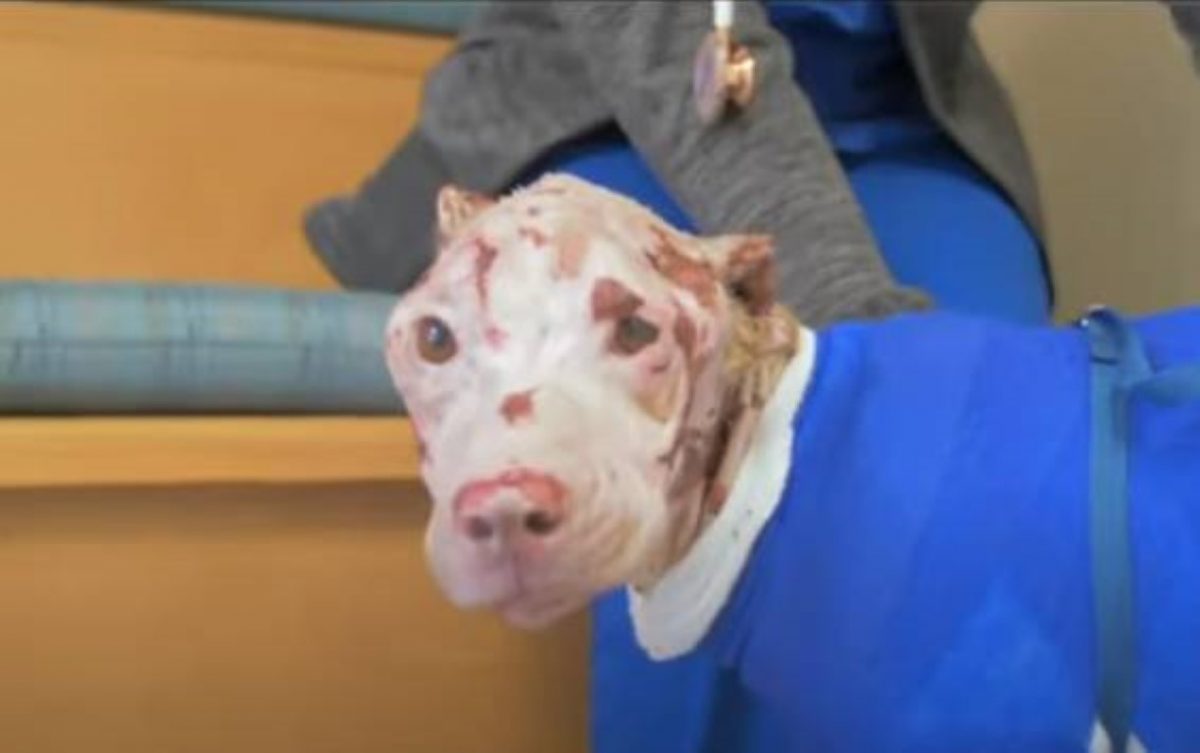 While his coat will not look the same as it did before he was mistreated, this beautiful pit bull will be in good health. He has managed to win over the entire staff and he loves the rest of the world as well.
"Justice is a loving dog eager to learn. Just like any puppy, he wants to find his forever home once he is healed, where he will give and receive love every day," commented his caregivers.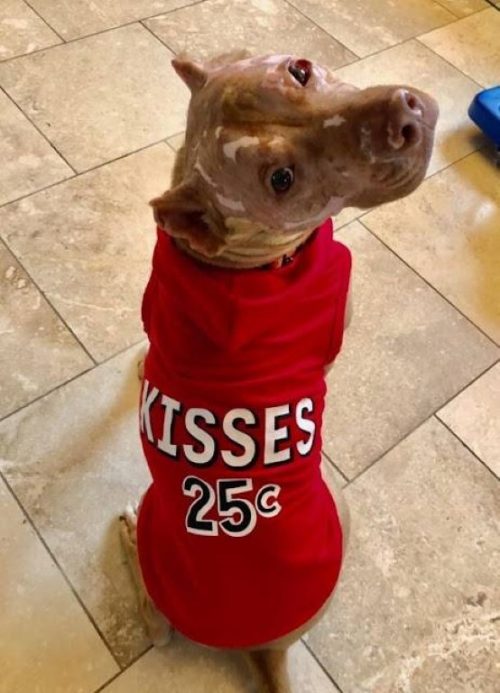 After nearly a year of treatment and training, Justice was ready to be adopted.
His story became known so several people were interested, including families from other cities and countries, but the shelter only accepted applications within a 100-mile radius so that veterinarians could keep a close eye on his recovery. Jessica Lynch, one of the veterinarians who cared for this brave pit bull commented:
"He was extremely sad at first. He has certainly come a long way. He has a lot more personality today. He is now a very happy and feisty boy."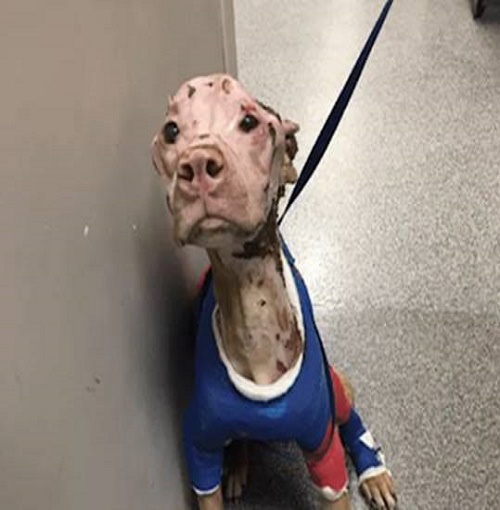 Justice not only had to heal his body but also improve his behavior, due to the past full of misfortunes he faced he did not trust all people, so he received training for more than a year to become a fully educated puppy and regain his trust in people.
Nowadays he follows instructions, attends many of the commands, has learned to obey and receive affection from all those who surround him with love and respect.
A difficult past has left its mark, but today he enjoys a new opportunity.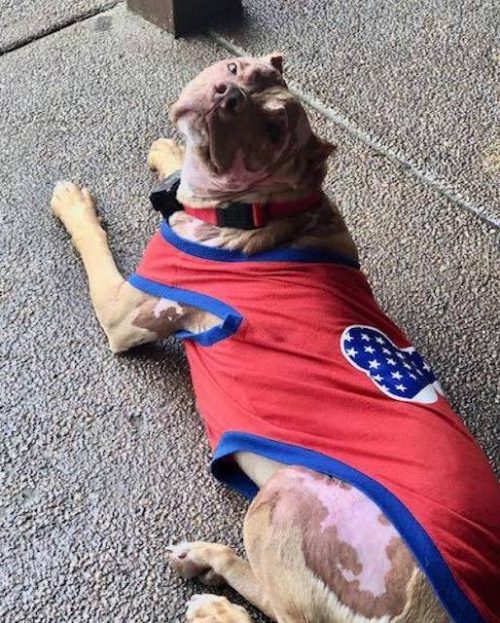 The best of all is that Justice got the happy ending he deserved, after a little more than two long years of recovery he was finally adopted.
This brave pitbull has become a true example of overcoming and perseverance, he reminds us that in the right hands everything is possible if done with love.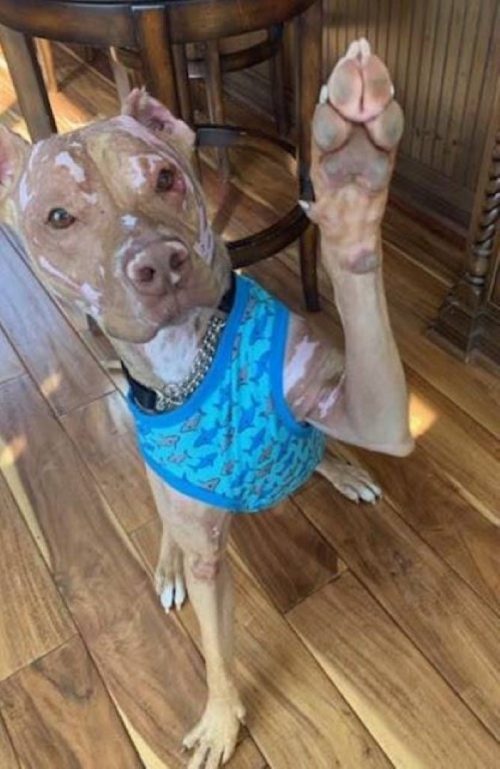 His transformation has been completely successful, his injuries are things of the past and he is much more loving than he used to be, he loves to have his new favorite people rub his belly and he trusts humans completely.
He knows he will never be hurt again and is thoroughly enjoying this new opportunity.
While Justice is enjoying his new life, the shelter is still working to determine who was responsible for so much mischief.
They have offered a reward of up to $20,000, but unfortunately, there is not enough evidence to prosecute anyone for this heartbreaking crime.
Despite his terrible past, Justice is enjoying his life, his home, and a family that loves and respects him unconditionally.
Nothing justifies an animal to be mistreated in this way, let's keep fighting for just causes and let's watch together for the welfare of all animals, thank you to those who offer second chances and transform lives!