Ksenia Darmaeva is a tattoo artist whose work we have been observing for a very long time. We saw with our own eyes the transformation that Ksenia went through from brutal realistic graphics and Chicano to sophisticated botanical watercolor. We saw how @tattoo.bloom flower opened in the tattoo industry.
And now, Ksenia's tattoos, like the illustrations of botanists of the past, carry not only an aesthetically attractive form, but can also serve as a practically applied tool for studying the flora of the planet Earth. She manages to surprisingly combine lightness with detail, airiness with realism in her works. It's just delightful!
Please meet Ksenia Darmaeva.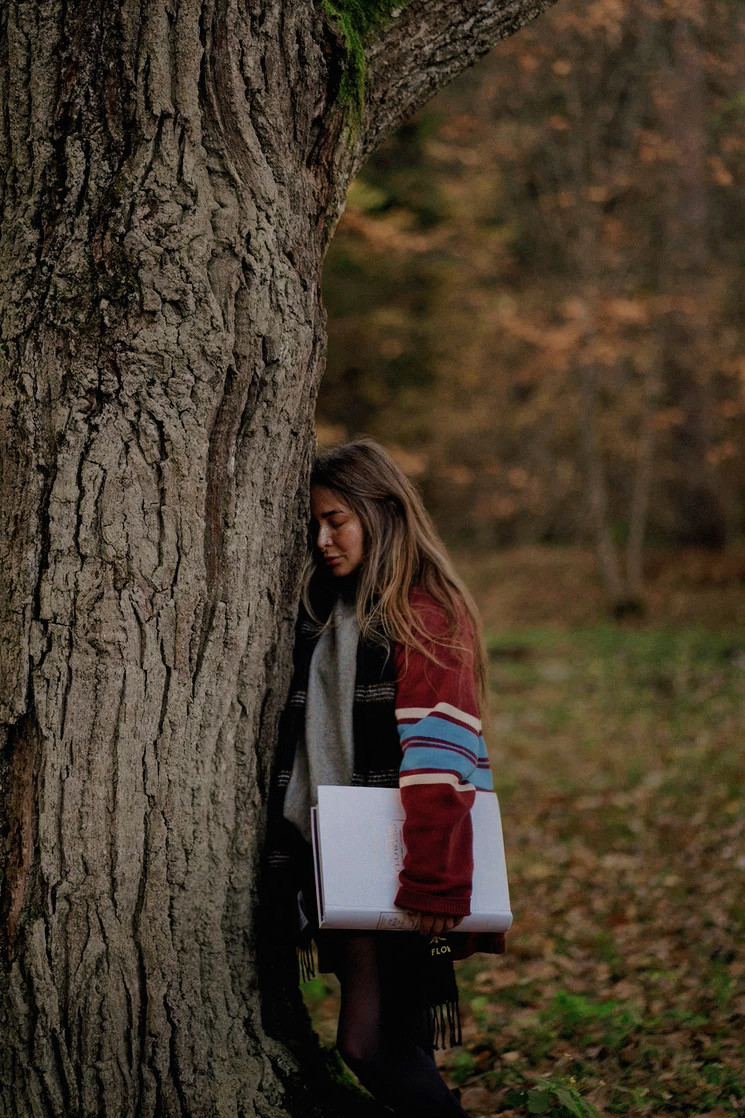 ---
Ksenia, we have been familiar with your work for quite a long time and are glad to have the opportunity to talk with you. Let's start with our traditional questions: what led you to tattooing and how did your tattooing career actually start?
– Thank you. I think that my worldview led me to the tattoo. The possibility of self-expression and free-thinking is what I appreciate in people and try to maintain in myself. I bought the first equipment by selling my camera and bicycle. There was also enough money for renovation in a very modest room on Baskov Lane in St. Petersburg. There my sister and I started our journey.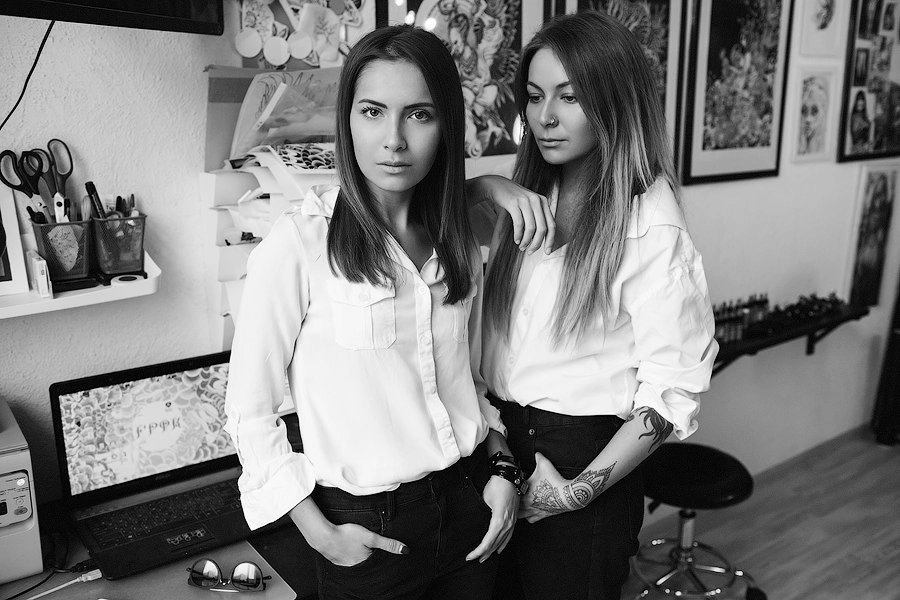 Ksenia and Kristina Darmaeva
As far as I remember, you started with near-realistic graphics, Chicano, etc. What has changed and why did you decide to leave this brutality for gentle, and in many ways, feminine tattoos?
– I still really love brutal Chicano tattoos. I really miss vampire-gangster portraits.
@tattoo.bloom started as an experimental and commercial project. And I still don't understand how it happened that in the end it literally took root in my very soul. I brought it to the state that I am now satisfied with. I am delighted that I can feel the structures of plants in this way. It's not difficult for me, I have a feeling that I was born with this feeling. I am from Yakutia. Shamanic blood flows in me. I pass each of my projects through the prism of nature itself. This is very cool. Now I have technically grown to the point that I don't have to style plants, I can have the most fun with all the little details, the streaks, the bumps. In my compositions I focus on stems, leaves, roots – I believe that this is the part of the artistic image of the plant that creates the general mood and dynamics.
I don't think botanical tattooing is an exclusively female field. This is the nature around us, memories of the rosehips blooming under Grandma's window, the smell of the forest after the rain, the plantain on a shattered knee, purple fingers and lips after blueberries, the wind, rocks, heather, the sound of pine… I think it was fate.
Do you have a professional artistic base? Was it difficult to adapt to watercolor after graphics in terms of tattooing technique?
– I had no teachers or art education. I learned from the whole world. The biggest discovery and shock for me was the school of French watercolor botany and the Dutch floral still life. In tattoo – no difficulty. I was never good at graphics. It's not my. I'm thinking from a painting perspective. But watercolor, as a material I have not yet mastered and I think I will not. My stuff is oil and pigments for tattoos.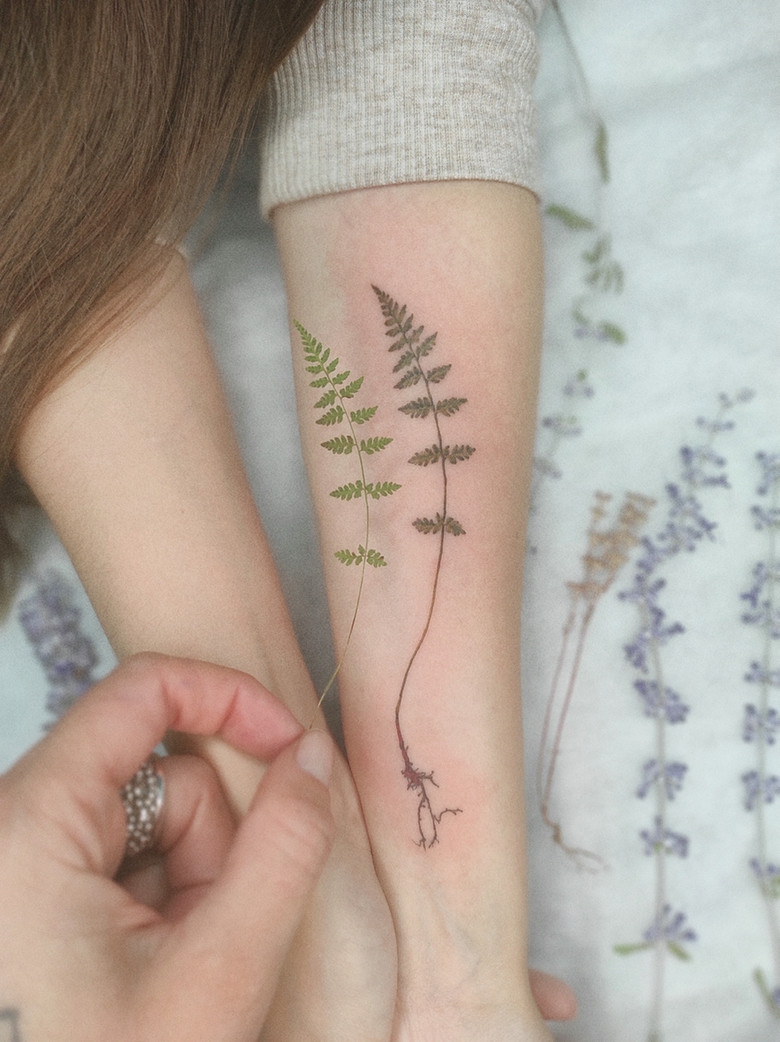 What features of your work can you highlight on your own?
– I am into herbarium. This is my hobby. From there, I brought into the tattoo what is usually hidden underground – the roots. The herbarium allows me to study the structure of plants – to look at details, feel, see sizes and volumes. Botany must be alive. I love making imperfect leaves. Well, yes, stems. For me, this is not a line, it's a living organism). But I still have a lot of ideas for self-expression.
The botanical illustration has its origins in the books of life science scientists as a way of depicting the world. And what is this for you?
– This is the approach I'm close to. This is a way of depicting and exploring the world around us. In my non-tattoo art, I sometimes encrypt things that are important to me. I learned this language of complex metaphors through simple things from Eastern culture and the etiquette of the "language of flowers" ​​in France. The word "bouquet" itself is a French word and means "beautifully assembled group of flowers".
The art of the ancient East is close to me ideologically, but technically and visually the European school is closer.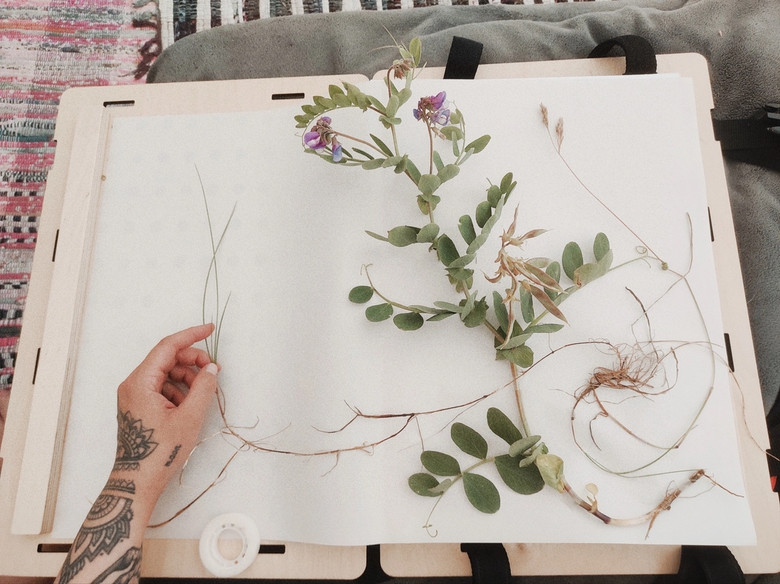 Who or what is your source of inspiration?
– First, of course, the forest. I love the forest. It is a space within a space within a space. From artists… I can write essays on artists that inspire me. But I will highlight the most famous. First of all, this is of course Pierre-Joseph Redoute – French painter and botanist, court illustrator of the botanical catalogs of Queen Marie-Antoinette. He was not an artist, he was a scientist. But, as a result, he left a stunning artistic heritage. Friends gave me his book for my birthday. Now this is my Bible! I love my friends. They are the best!
I really like the purity of forms in the still lifes of Count Fyodor Petrovich Tolstoy. In order to become an artist, he gave up his military career.
Tahayao Fern Herbarium – He is the chief of the Maori tribe and includes specimens of 20 species of ferns. It sounds great! Even if the chief of the Maori tribe collected plants, then I, of course, need to!
Our planet is so diverse in terms of flora that I can not help but ask about travel. Where have you already been? And which country has had the most impact on your work?
– That's true. Many of my clients are asking for tattoos of the flora of the regions where they were born, where they come from. I love Karelia and northern nature.
But I love all the countries I've been to. I'm easily impressed.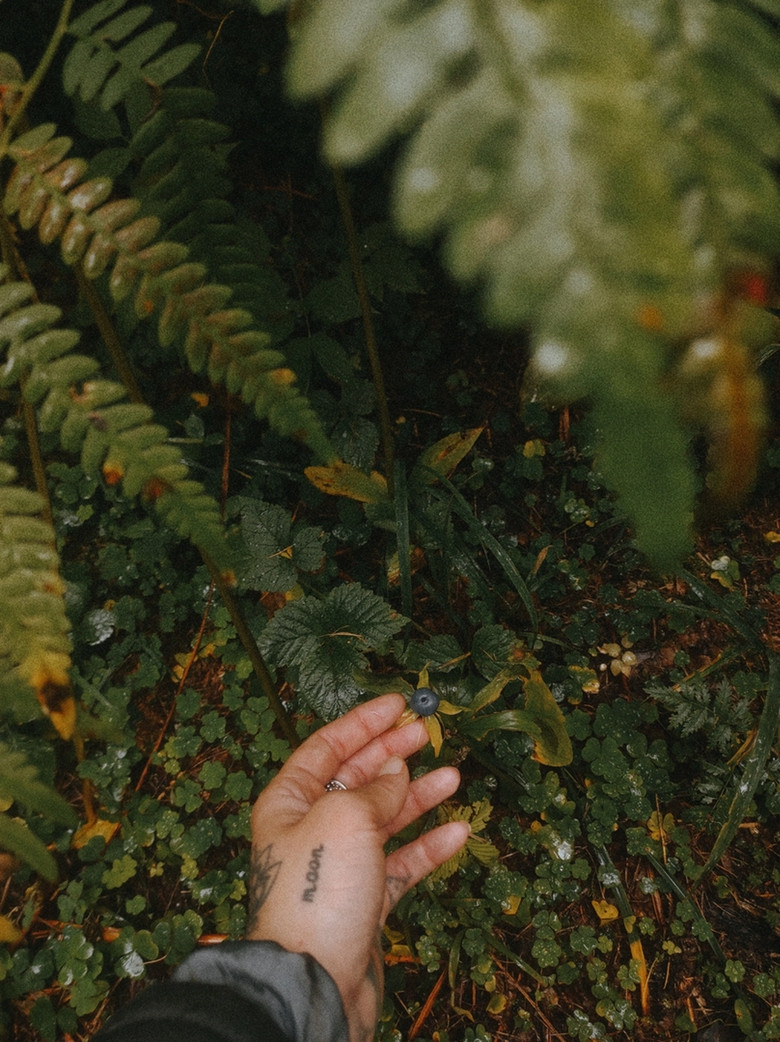 But there are two countries that have had a very strong influence on me. I'm always growing as a master in the Netherlands. There I can freely create. All my technical progress is there, I don't know why. Just happened. I have a special love for France, in particular for Paris.
Golden and green color, floral ornaments in the interiors, gardens, perfume. Attitude to artists. In Paris, there's no feeling that if you live in art, there's something wrong with you. It's subversive.
The Netherlands and France have a very strong school of painting.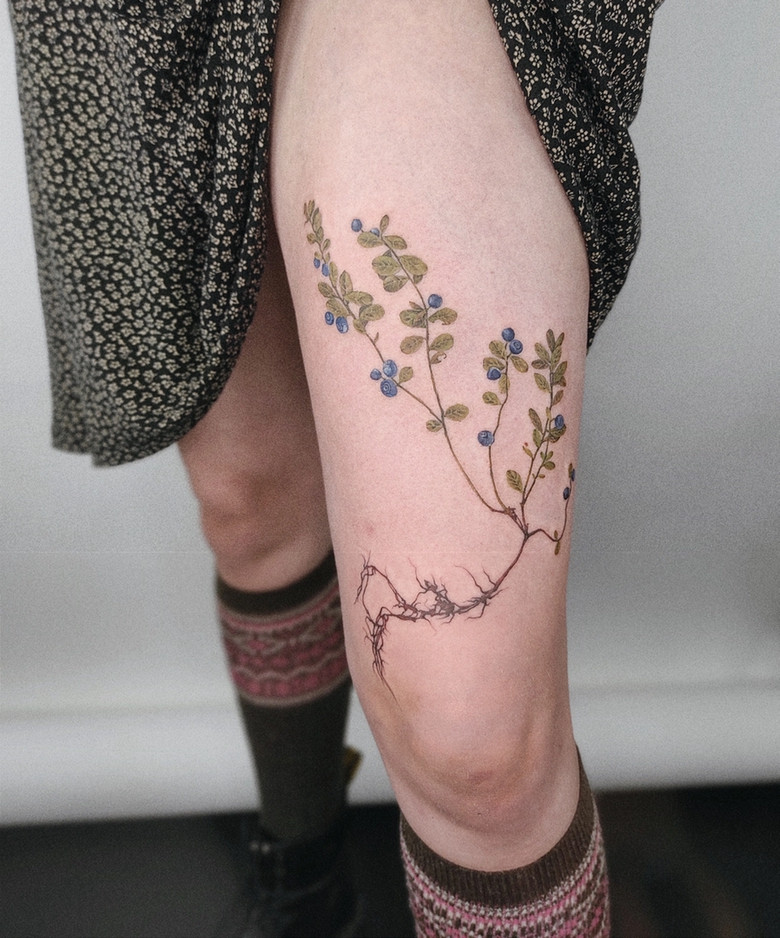 Tell us about your clients. What brings them to you? And do they have anything in common?
– My clients are all different. But most often they are energetically very warm. I can feel it.
I had a story about how one of my clients got a modeling job due to a tattoo of blue magnolias on her chest. Travels and works in different countries. I'm so happy for her! She is great. That's why she came to me.
Are there any geographical differences in the choice of tattoo plants among your clients from different countries?
– Oh sure. In more southern regions, more garden plants can be found. And love for little birds. I love them too, so I'm just happy.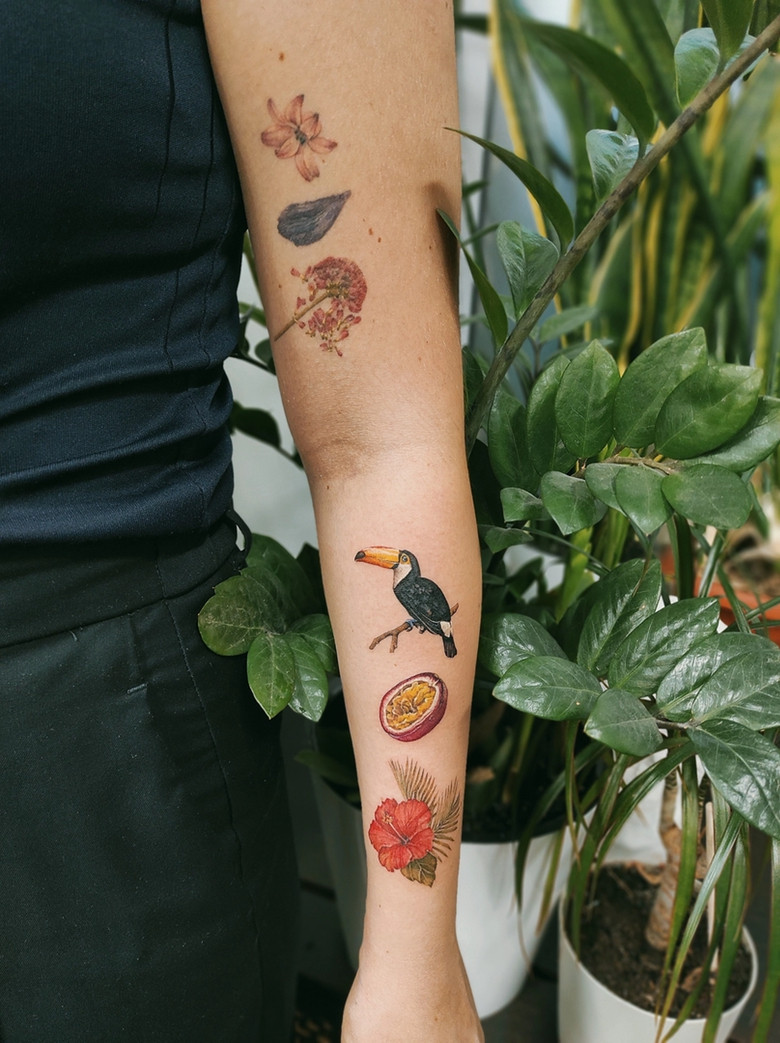 And what plants are in your personal TOP? 
– There is no such top. It is impossible to single out any of children.
Do you have any special or favorite projects?
– I love projects that consist of a set of plants that form a sticker composition. I think it's stylish.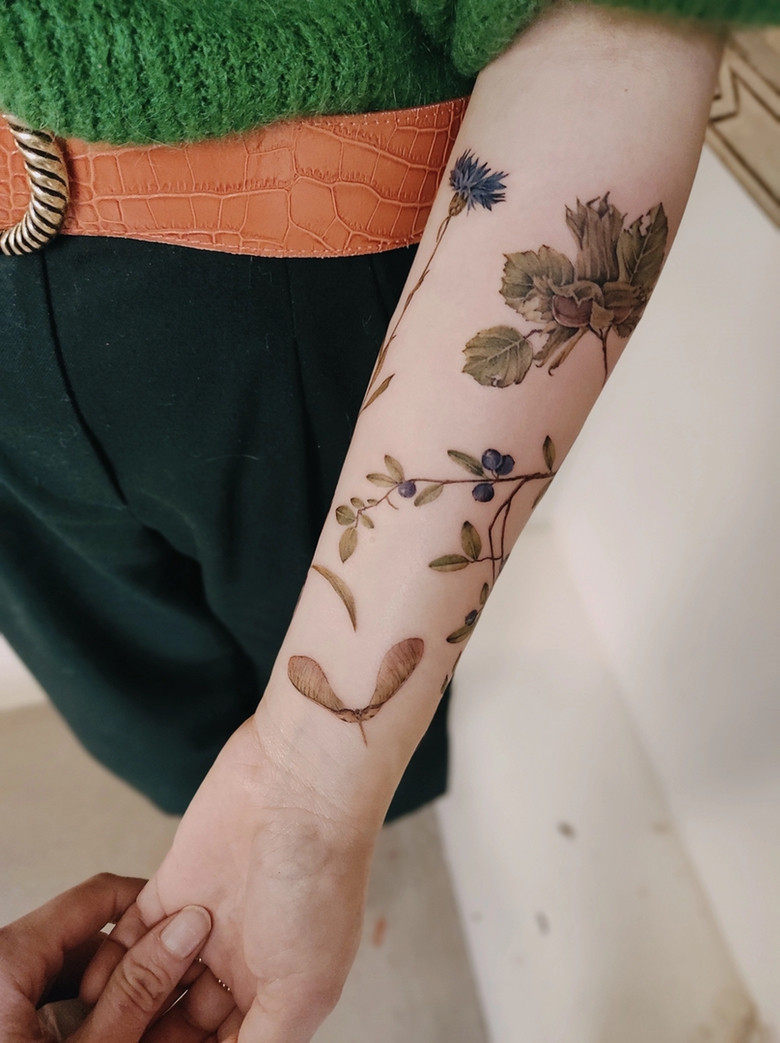 Do you attend tattoo conventions?
– Tattoo conventions are an important part of the industry as a whole. The question is only in format. Previously visited conventions in Russia. I was in Moscow, St. Petersburg, and Yekaterinburg. In Yekaterinburg, there was even a nomination for "watercolor botany" or something like that. Thank you very much for this nomination! But now, more often than not, I don't have time. But I will definitely return to participating in conventions.
What is your main goal in your career as a tattoo artist and in life in general?
– A samurai has no goal, only path.
What else are you passionate about besides tattoos?
– The art and training of dogs. I love both. Dogs are my second passion. And training them is also an art. I especially love wolf hybrids. Of course, it's not easy with them. But I like their spirit and will. A good dog is like a good car. Now I have a Czechoslovakian Wolfdog. Serious breeds discipline you. This is a great responsibility.
I also participate in various eco projects. Maybe someday I'll grow up to my own. I have experience and I see how our planet needs it now.
You mentioned participation in eco-projects, can you tell us a little more about it.
– Eco-projects I call participation in various spontaneous programs of eco-activists for planting trees. Often such actions are carried out by regional agricultural organizations. I personally took part in planting trees in the Leningrad region about 7 years ago. But since about 2017, I have been worried about the situation in Siberia and the Siberian forests. I first collected letters with signatures from friends and acquaintances in order to stop uncontrolled and lawless logging. Then came the realization of the perishability of being in "the interest" of the government to preserve the forest of Siberia, and I found the activists of the region and joined them.
In Omsk there is a dendropark «Bolshekulachie». Its landing has been going on since 2018 without the involvement of the government. Collected by the whole world and from all over Russia. The main landing was on cedar, fir, pine. Cedar is generally a unique tree.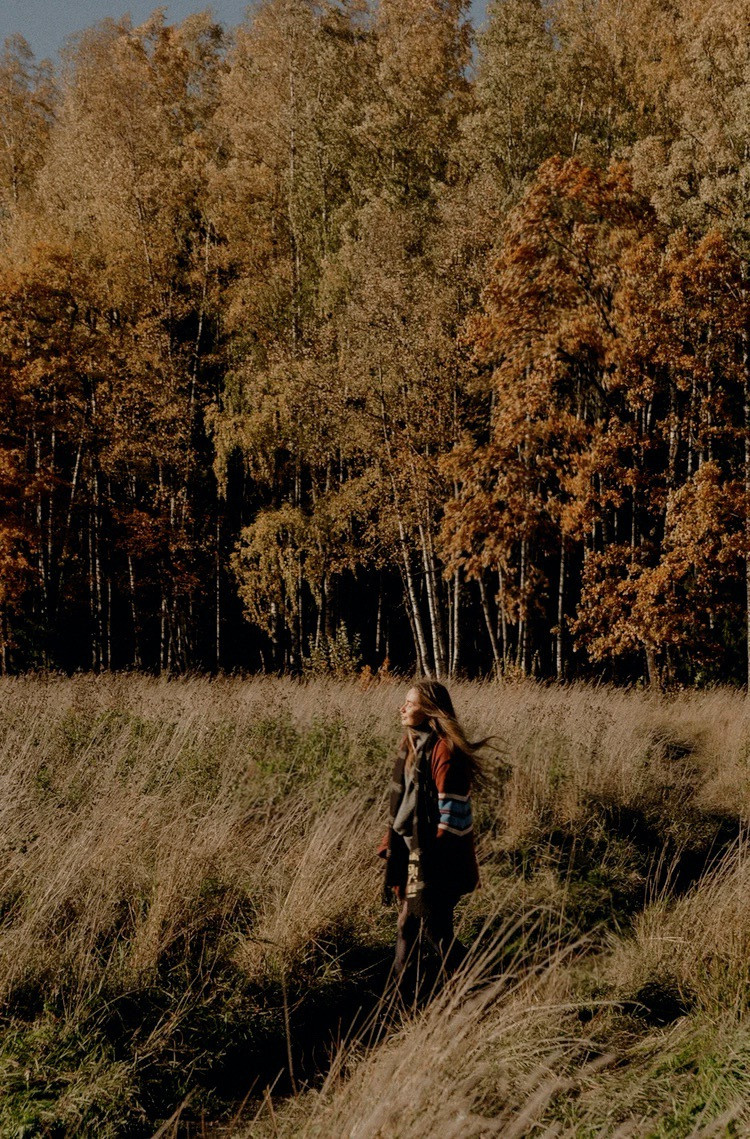 Well, in a small way, I always try to support financially projects to preserve the ecosystem. This is an important task for mankind. In the Leningrad region, for example, there is an organization to help and rescue seals, wild animals and birds. By the way, you can also participate.
For example, to organize our tattoo industry for some event to help the forests of Siberia. The forest is not only about trees and oxygen. It is primarily a mycelium fungus underground and home to a large amount of fauna.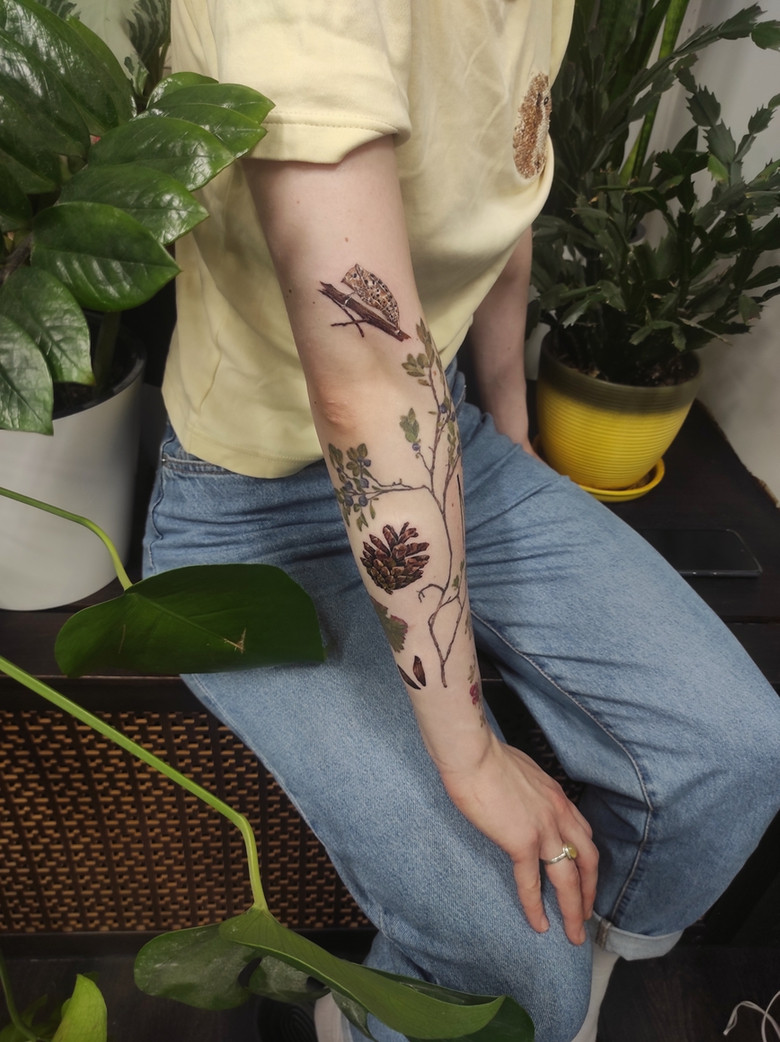 Share your creative plans for the near future.
– Work, work and work. It's only in the process that something big and worthwhile is born. I'm not one of those people who gets something from the sky. I know what's usually behind a little success.