An elderly puppy was found on the side of the road in Dublin, Ireland, curled up as if he was trying to hide from the pain that was invading him. His condition was truly pitiful, he needed medical attention and constant supervision to help him get by.
His fate changed thanks to a person who was moved by his situation and decided to take him to the DSPCA, a non-profit organization that looks after the welfare of the most vulnerable animals.
Elderly dog rescued on the side of the road surprises everyone with his fighting spirit.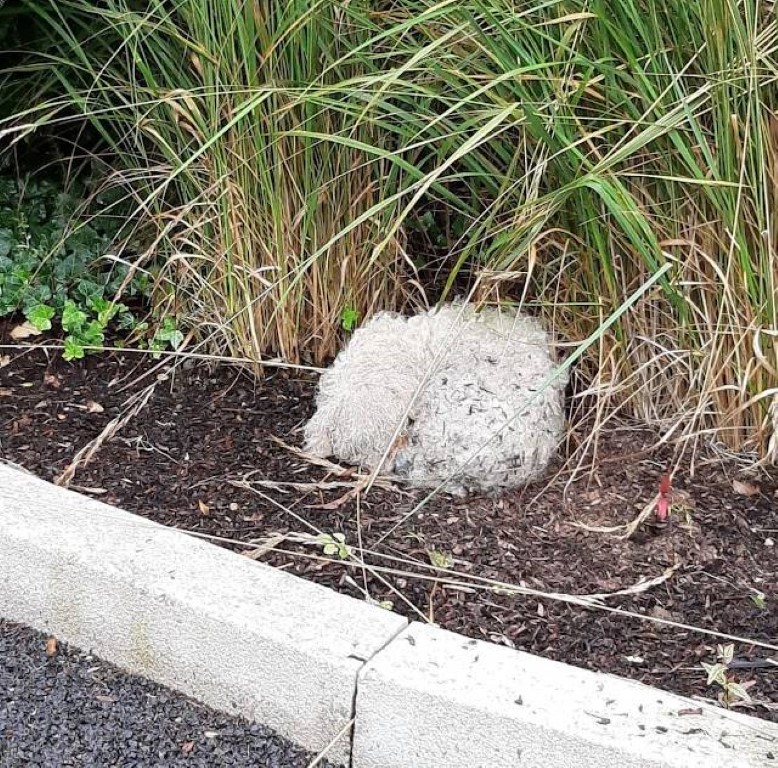 The little dog was finally getting help, his condition indicated that he had been suffering for a long time. Through the networks, the DSPCA made his story known.
"If only he could talk, we could ask him what happened, how long he has suffered, who left him there, if he ever loved, if he was loved."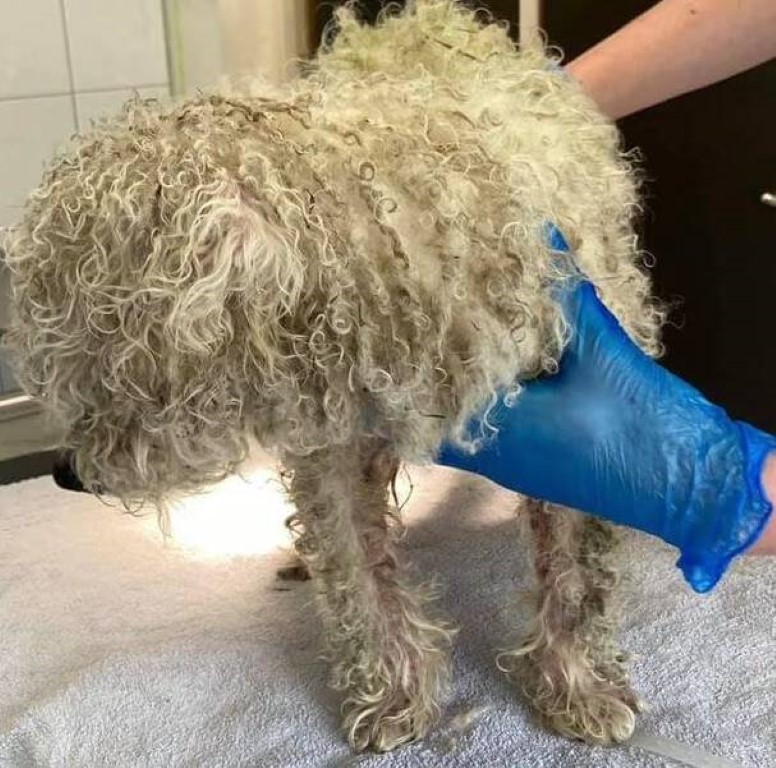 When they checked him out, they confirmed that the dog's condition was much more delicate than what met the eye.
His diagnosis was not very encouraging, but his rescuers were not willing to give up, they would do everything possible to save him and improve his quality of life. The veterinarian's notes stated the following:
"This is an elderly puppy, approximately 12 years old, with severe dental disease, exposed gum recession. His skin from paws to shoulders was severely inflamed.
His ear canal is thickened, he is in too much pain to perform an examination. His coat is very dirty, his mats are covered with feces and urine. His face is covered with hair, unable to open his eyes. He has a grade 3/6 heart murmur."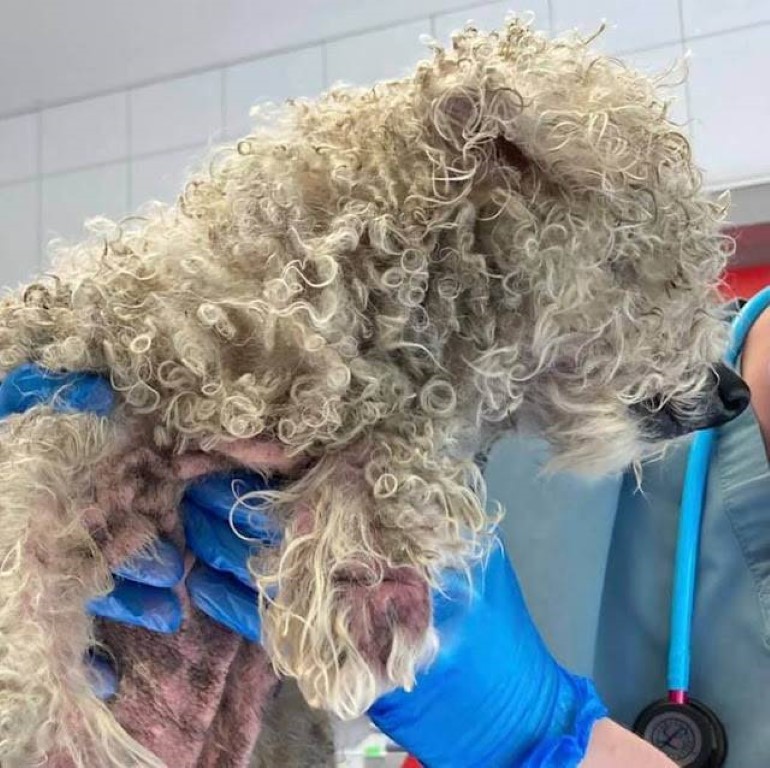 The adorable furball was named McDreamy, his past was full of misfortunes but now he was in the right hands, he had the support of a wonderful team of people who with a lot of patience and infinite love were with him throughout his recovery.
They helped to heal his wounds not only physically but emotionally, incredibly the little dog in spite of everything he had been through was always very receptive to his rescuers, and soon he was showing small improvements, something that undoubtedly stirred the hearts of his new favorite people.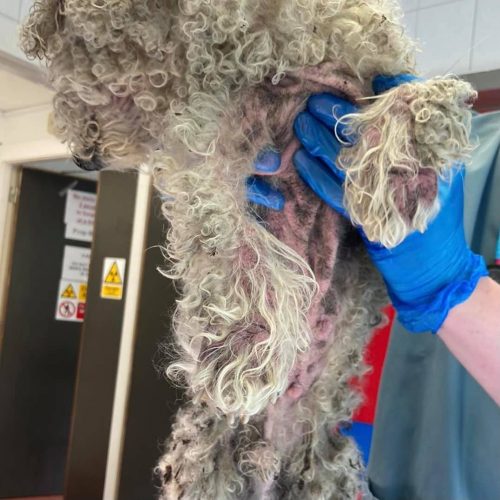 The recovery process was far from easy, but McDreamy surprised everyone with his fighting spirit and desire to get better. Through a publication the organization commented on the matter:
"Despite what he has been through and the pain he felt, he is very feisty and we love him for that. This little doggie is breaking our hearts because of how determined he is to get better. He is so amazing and brave and is not giving up.
Our brave McDreamy went out to an amazing foster home shortly after his first post was made, he is getting lots of love and care, a long way from where he was rescued.
He is still receiving ongoing care from our veterinary team and is already feeling much better. We can't wait to see this little guy get stronger and stronger and we will be with him every 'shaky' step."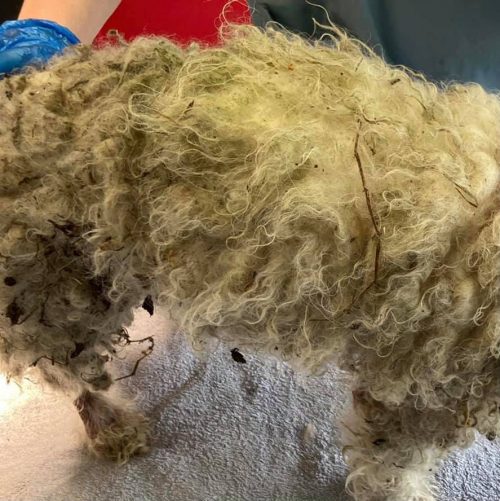 Life for this adorable little ball changed thanks to a person who was not indifferent to his situation, to a great veterinary team that continues to fight to improve his health, to the shelter staff, and to his foster mother, who gave him a new chance and accepted his situation. They all made it possible for the little dog to be saved.
Today McDreamy has made a complete turnaround, even though he still struggles to keep his balance when running, he continues to improve by leaps and bounds. A brave warrior who reminds us that everything is possible in the right hands and when working with love.
They say that home is where the heart is. We are happy to know that this little dog has found his home and is getting all the love he deserves.