In 1939, the United States military had fewer than 3,000 aircraft in service – yet, by the end of the Second World War in September 1945, America had produced 300,000 planes. By 1944, the annual output was a staggering 96,318 units. While the vast majority were fighter aircraft, during the war, the United States was still able to build a staggering number of bombers, including 12,731 B-17 Flying Fortresses, 18,493 B-24 Liberators, 9,890 B-25 Mitchells, and 3,970 B-29 Superfortresses.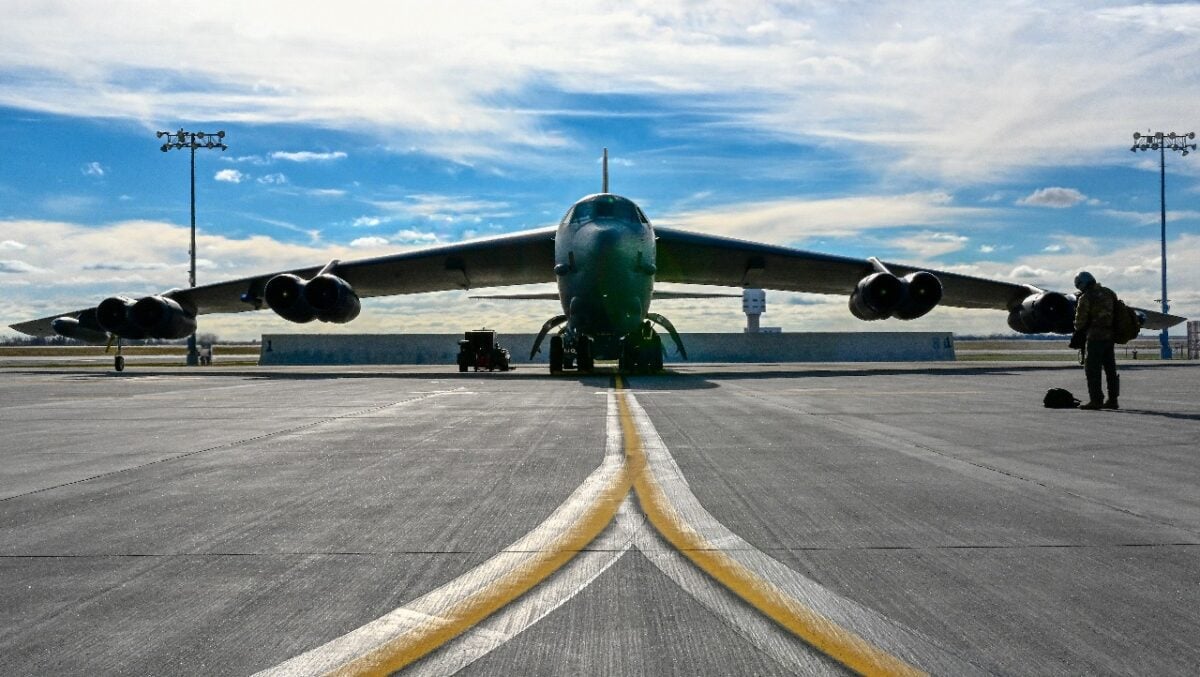 A B-52H Stratofortress is prepared for fight at Minot Air Force Base, N.D., Oct. 25, 2021. The last B-52H built was delivered in Oct. 1962. (U.S. Air Force photo by Airman 1st Class Zachary Wright)
While many of those aircraft were sold or scrapped after the war, fearing another conflict, the United States Air Force maintained a large bomber fleet for decades.
How Many Bombers Does the Air Force Have in 2022?
However, the current U.S. Air Force's bomber force is significantly smaller than it was during the Cold War, and the United States hasn't even produced a bomber in more than two decades.
Moreover, there was a time when the Air Force operated a wide variety of bombers – but today, it is down to three aircraft, including the Boeing B-52 Stratofortress, the Rockwell B-1 Lancer, and Northrop Grumman B-2 Spirit.
All three aircraft are now entering the twilight of their service, as the Northrop Grumman B-21 Raider is on track to enter service by 2030.
While numbers can vary based on availability, there are only 141 bombers in the U.S. Air Force at present. However, while that might not seem like a lot, the damage they can unleash certainly is.
Boeing B-52 – The Cold War Workhorse
Between 1952 and 1962, a total of 744 B-52s were produced. Designed and built by Boeing, the aircraft has been steadily updated and enhanced. It can carry up to 70,000 pounds (32,000 kg) of weapons and has a typical combat range of around 8,800 miles (14,080 km) without aerial refueling.
Currently, seventy-six B-52s remain in service, and with its latest upgrades, the final aircraft could remain flying until the 2050s.
A U.S. Air Force B-52 Stratofortress assigned to the 2nd Bomb Wing departs after receiving fuel from a KC-135 Stratotanker, assigned to the 340th Expeditionary Air Refueling Squadron, during a multi-day Bomber Task Force mission over Southwest Asia, Dec. 10th, 2020. The B-52 is a long-range bomber with a range of approximately 8,800 miles, enabling rapid support of BTF missions or deployments and reinforcing global security and stability. (U.S Air Force photo by Staff Sgt. Trevor T. McBride)
Rockwell B-1 Lancer – The Old Bone is Still Flying
The supersonic variable-sweep wing heavy bomber was developed to combine the Mach 2 speed of the B-58 Hustler with the range and payload of the B-52.
The original plan was for it to replace both bombers. That didn't happen, but the B-1 Lancer – commonly known as the "Bone" from "B-one" – was actually canceled by the Carter administration, only to be revived by President Ronald Reagan.
Four B-1A prototypes were built, while an additional 100 B-1Bs were produced. The fleet has been gradually reduced, and currently, just forty-five of the original 100 are still in use – operating from Ellsworth Air Force Base (AFB), South Dakota, and Dyess AFB, Texas. The final aircraft will likely limp along until they're retired by the end of the decade when the Northrop Grumman B-21 Raider enters service.
A U.S. Air Force B-1B Lancer, attached to the 34th Expeditionary Bomb Squadron, Ellsworth Air Force Base, South Dakota, flies over the Pacific Ocean after taking off from Andersen Air Force Base, Guam, June 12, 2022. Bomber Task Force missions contribute to joint force lethality and deter aggression in the Indo-Pacific by demonstrating the United States Air Force's ability to operate anywhere in the world at any time in support of the National Defense Strategy. (U.S. Air Force Photo by Tech. Sgt. Chris Hibben)
The Northrop Grumman B-2 Spirit – the Spirit in the Sky
For aviation buffs, actually seeing a Northrop Grumman B-2 Spirit in flight is a huge deal, simply because just twenty-one were built, and following the 2008 crash of AV-12 "Spirit of Kansas" – the most expensive U.S. Air Force aviation mishap in history – just twenty remain in operation.
The United States Air Force had originally planned to purchase 132 of the heavy strategic bombers, which were designed with low observable stealth technology to penetrate dense anti-aircraft defenses. However, with the dissolution of the Soviet Union, along with high operating costs, the program was slashed by Congress in the early 1990s.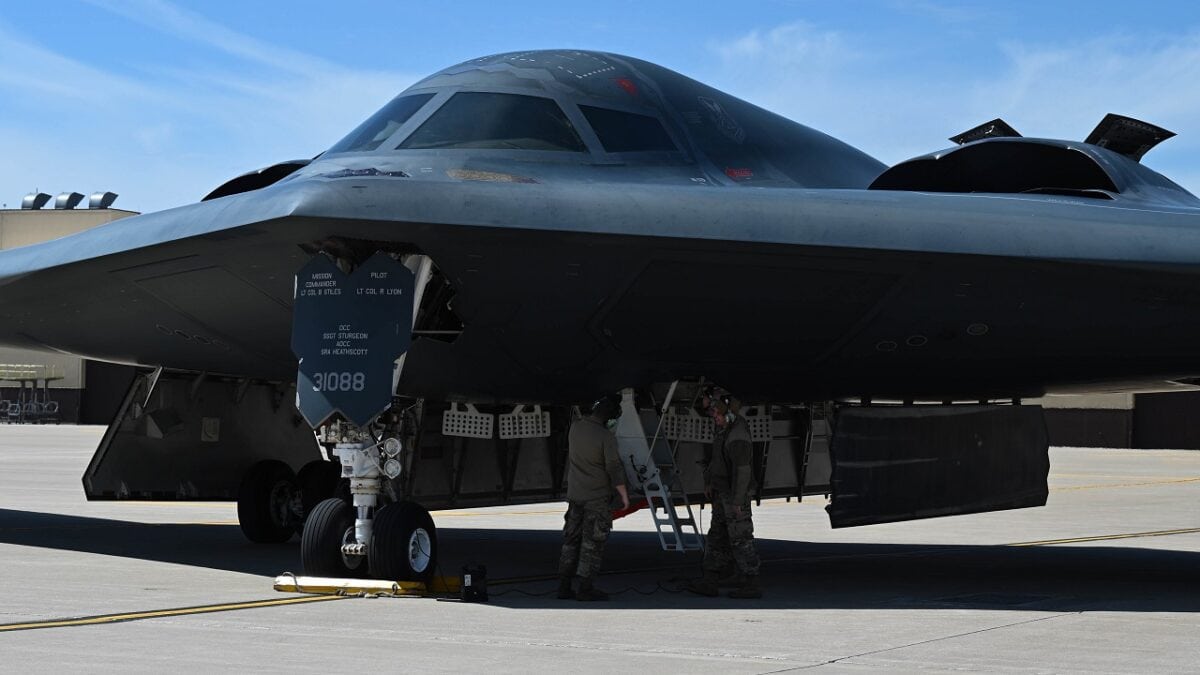 Crew chiefs assigned to the 509th Aircraft Maintenance Squadron prep a B-2 Spirit stealth bomber for a hot-pit refuel, at Whiteman Air Force Base, Missouri, April 4, 2022. Exercise Agile Tiger promotes resilience, innovation, competitiveness and process improvement, all talents required to address today's complex challenges. (U.S Air Force Photo by Senior Airman Christina Carter)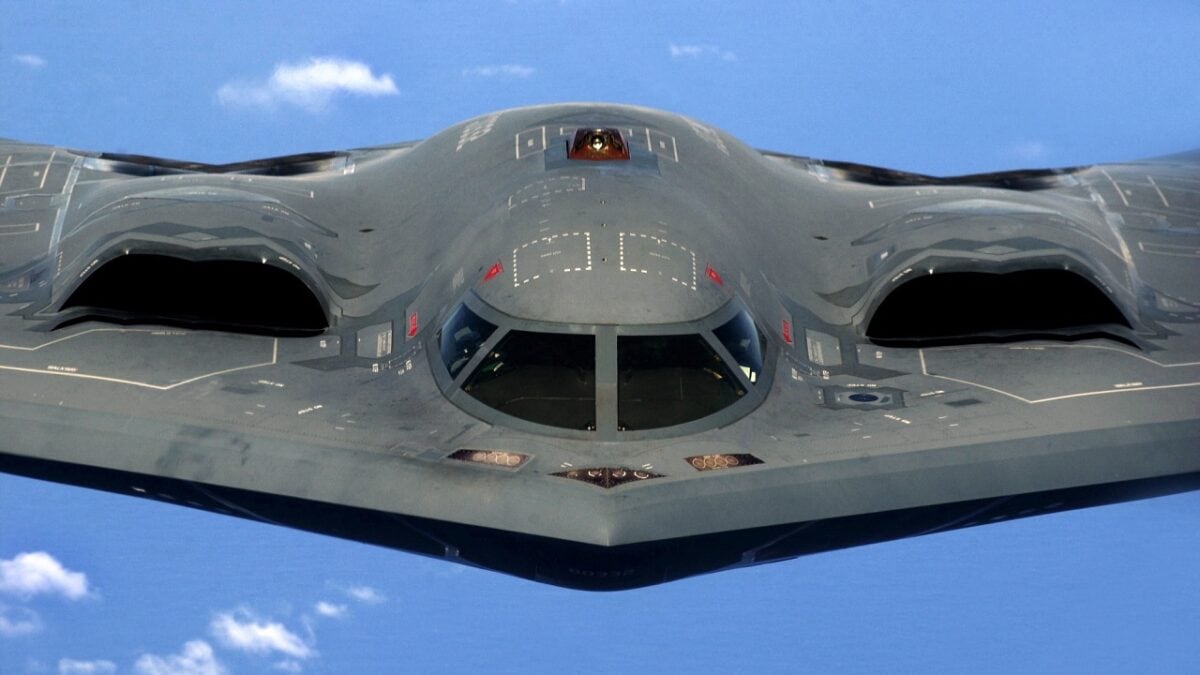 A U.S. Air Force B-2 Spirit "Stealth" bomber, 393rd Expeditionary Bomb Squadron, 509th Bomb Wing, Whiteman Air Force Base, Mo., flies over the Pacific Ocean after a recent aerial refueling mission, May 2, 2005. The Bombers are deployed to Anderson Air Force Base, Guam, as part of a rotation that has provided the U.S. Pacific Command a continous bomber presence in the Asian Pacific region since February 2004, enhancing regional security and the U.S. commitment to the Western Pacific. (U.S. Air Force photo by Tech Sgt. Cecilio Ricardo) (Released)
Though designed originally as primarily a nuclear bomber, the B-2 was first deployed in combat operations to drop conventional, non-nuclear ordnance in the Kosovo War in 1999. The Spirit later served in Iraq, Afghanistan, and Libya.
The last B-2 Spirit was produced in 2000 – and the bombers are expected to remain in service until at least 2032.