A little yorkshire terrier puppy has become a celebrity after committing the most epic theft, leaving his owner, and the whole world, choking with laughter.
The Yorkie's name is Thomas, and he never misses a chance to get a new toy or a tasty treat. Sometimes, he even has to sneak out to get what he wants.
The little dog stole daddy's false teeth, never imagining that he would be left with a funny permanent smile.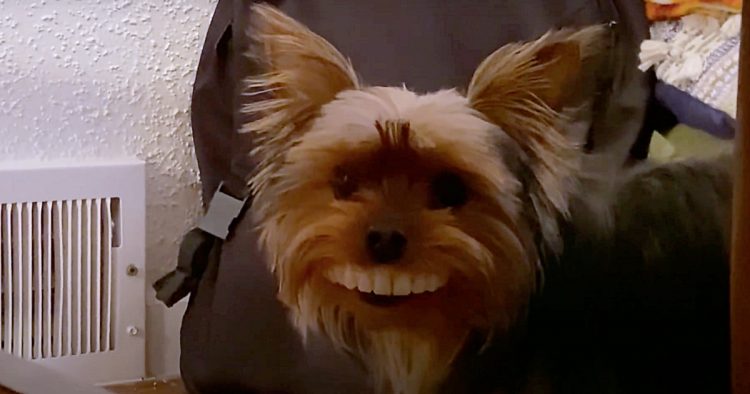 It turns out that Thomas' father, Ben Campbell, a few months ago was looking for new ways to occupy his time in quarantine. And since the confinement was getting him pretty depressed, he decided to take life on the nicest possible side. So he bought himself some giant false teeth to have some fun.
With the giant teeth, Ben planned to take selfies and videos, and upload them to his networks, to make his friends laugh, and make the pandemic more bearable for everyone.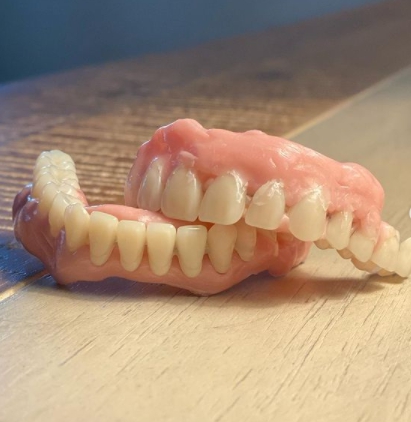 But before using them, he left them lying on the table, not imagining that his naughty little dog would find them first and make a mess of things.
When no one was watching Thomas, he slipped under the table, as he usually does with all the other things he loves to steal. And unbeknownst to Ben, the funny Yorkie had got the teeth all to himself.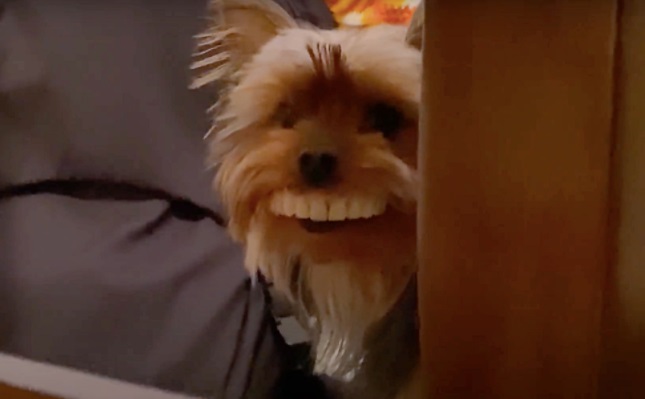 When Ben noticed that the teeth were no longer on the table, he immediately decided to go investigate. Little did he know that he would find Thomas with his teeth perfectly in place, with a permanent smile that was recorded for posterity.
When Ben saw Thomas with his new teeth, he couldn't help but laugh out loud.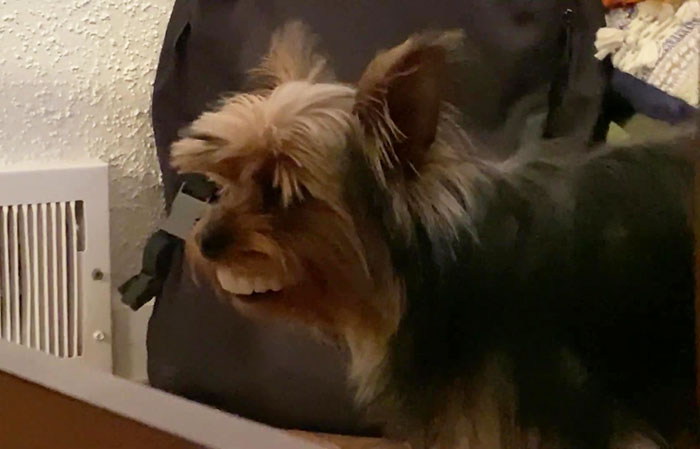 Thomas was holding up the teeth strutting his stuff and proudly showing off his big smile. The naïve animal didn't even understand what was making his owner laugh so hard, but it was no wonder.
Luckily, Ben immediately pulled out his phone, and did his best to record the silly scene, as he continued to laugh loudly and uncontrollably. It definitely wasn't the use he had planned for the teeth, but it turned out much better. And thanks to Thomas, he had the most relaxing and funniest moment he'd had in a long time.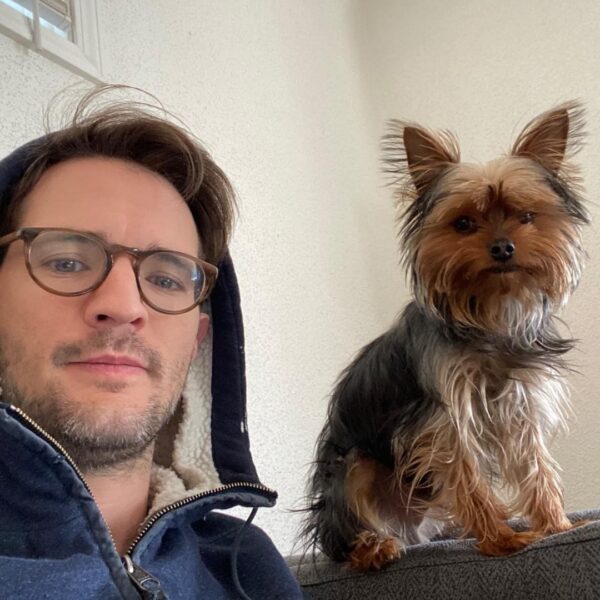 "I was planning on making some quirky videos of myself with the big teeth. Thomas, my 6-pound teacup Yorkie, grabbed them and while I was chasing him to retrieve them, he had them locked in his mouth in the perfect position," Ben said.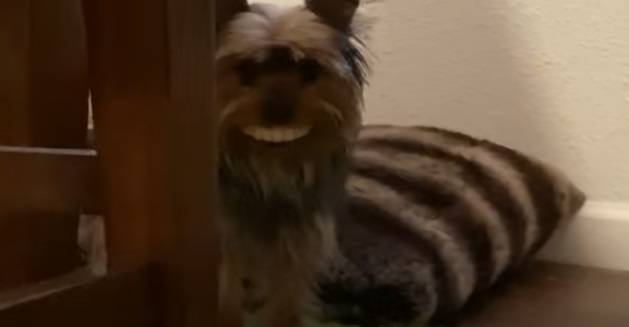 Ben then didn't hesitate to post the funny video on YouTube, dubbing his puppy "Toothy Thomas". The result was so successful on the networks, both for the epic scene and Ben's infectious laughter, that it didn't take long for it to become a viral phenomenon.
Judge for yourself in the funny video below: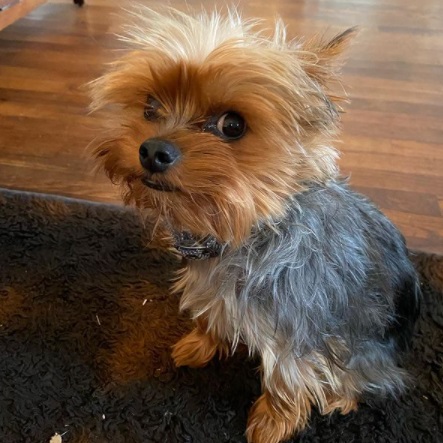 In the scenes, you can see how Ben does everything he can to get Thomas out from under the table. However, it's hard to sound serious when you can't control your laughter.
At first, Thomas simply walks away from his father, determined to keep his new chew toy. Toward the end of the video, he pauses and appears to pose for the camera. He probably knows he's about to become a star.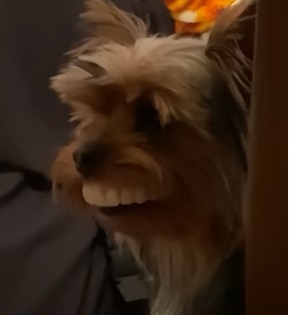 Toothy Thomas' video was shared all over social media and garnered nearly 2 million views and thousands of comments online.
Thomas has even been called "the unofficial mascot of quarantine."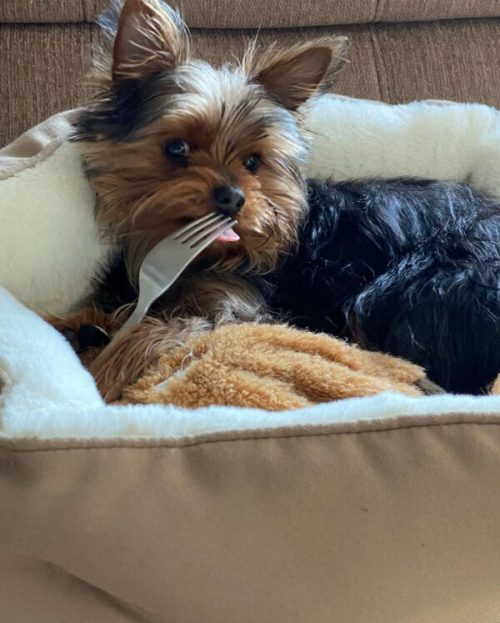 After all, it's nice to have uplifting content to watch amidst all the worries that the Covid has brought into our lives.
Since Thomas is quite the celebrity now, Ben decided it was time to expand the dog's social media presence. So he has his own Instagram page @toothytomas, where he posts even more photos and videos of his day-to-day life that anyone would fall in love with.
It's gratifying that puppies as sweet as Thomas live surrounded by love and give us epic moments like these – there's nothing like puppies, they're like children!