Kylie Myers was 12 years old when she was diagnosed with metastatic bone cancer. She immediately began treatment, which her mother, Robin, described as "brutal."
Robin says Kylie was a master at finding ways to be happy. The cancer treatment was going well, and halfway through, Kylie began asking for a kitten to join the other four family pets.
Kylie before the illness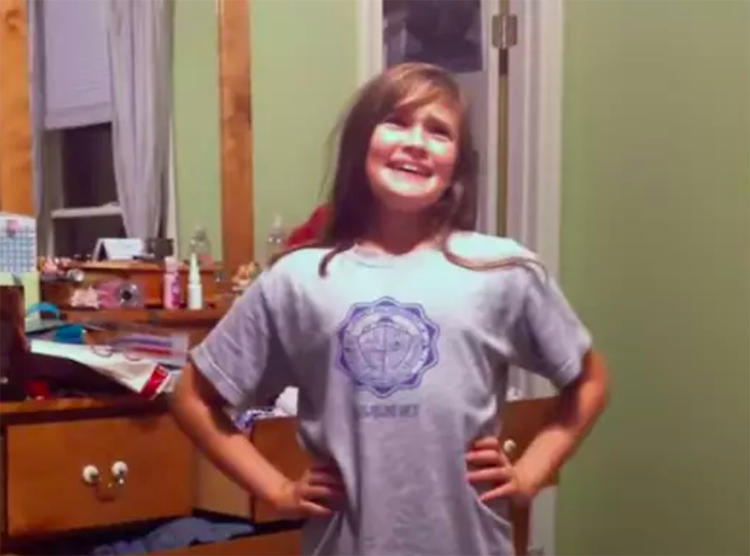 Robin told Kylie that they would wait until the radiation treatment was over and see how things went. If everything went as the doctors hoped, she would have the kitten she so desperately wanted.
In the final days of Kylie's treatment, a sharp pain in her shoulder revealed that the cancer had spread throughout her body and she was not going to make it. The treatment had been in vain and the Myers family was devastated.
The little girl always knew how to stay happy despite the adversity.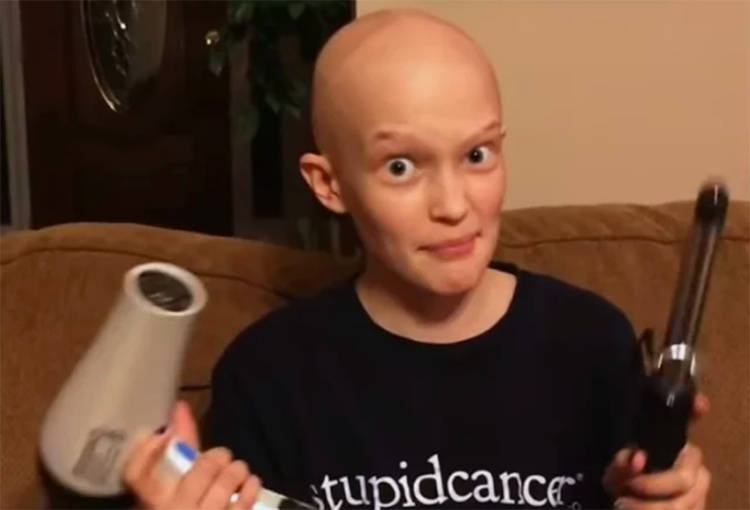 When Kylie returned from the hospital, she asked her dad, Mark, for a kitten one last time. Mark immediately made a call and within an hour a tiny kitten, whom Kylie named Liza, was delivered to her front door.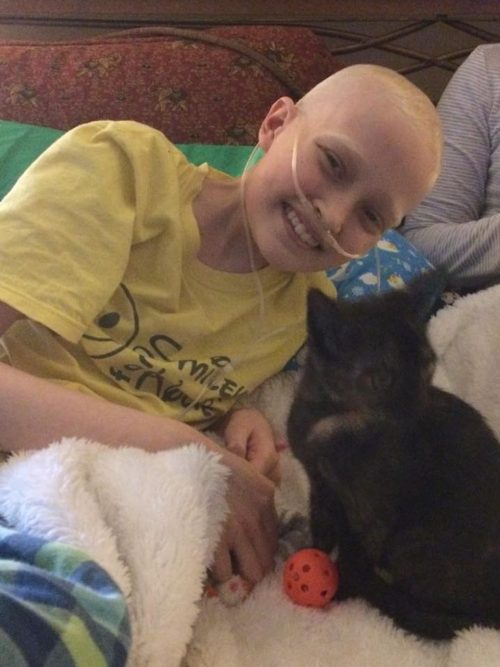 Liza immediately approached Kylie and put her paw on the little girl's sore shoulder. For two and a half days, Liza did not leave Kylie's side for a moment and, as Robin, her mother, once explained, the kitten seemed to be completely devoted to loving the little girl.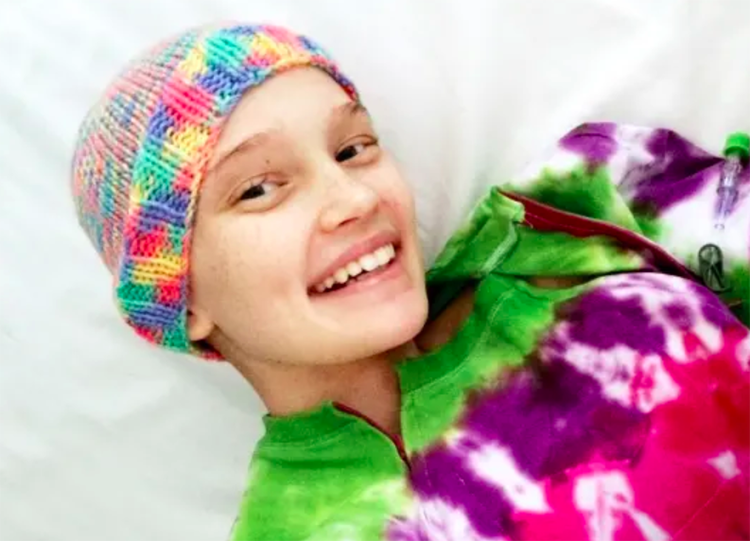 Kylie's last wishes were for her parents to help find a cure for childhood cancer and to care for Liza. After the little girl passed away, in 2015, Liza comforted the Myers family for months.
Robin was truly shocked. When she would begin to cry from the pain of her little girl's death, Liza would come to her side, no matter what corner of the house she was in, to comfort her in her grief.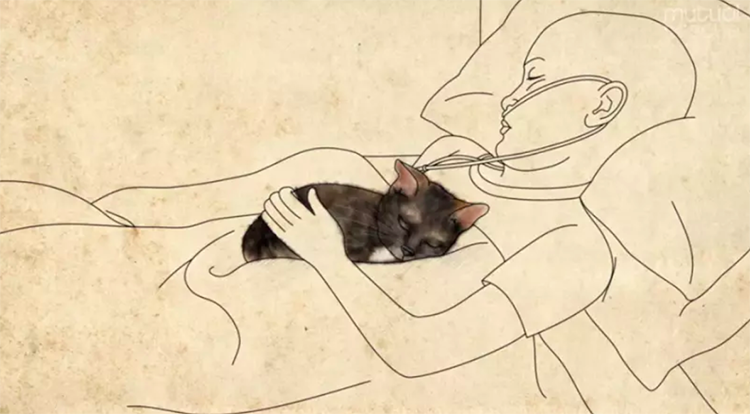 Kylie had asked her mother to take care of Liza, but it was also as if she had asked the cat to take care of Robin.
A year after Kylie's death, Robin and Mark submitted their story to Mutual Rescue, a group that creates films to show the power of the human-animal connection, particularly geared toward rescue animals.
Liza didn't leave Kylie's side for a moment during her convalescence.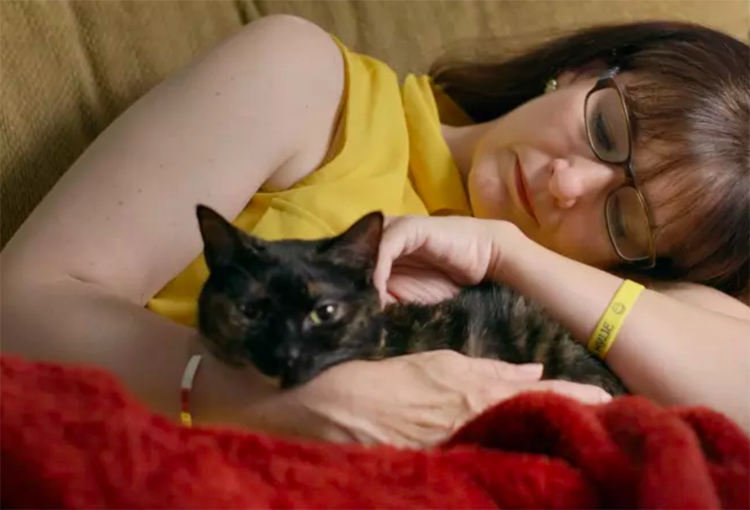 Mutual Rescue ended up turning Kylie and Liza's story into a video, sponsored by PetSmart Charities, and launched a campaign with the Myers family to raise funds for childhood cancer research and help homeless animals.
The Mutual Rescue film series has been created to illuminate the life-changing power of the human-animal connection.
Liza now comforts Robin unconditionally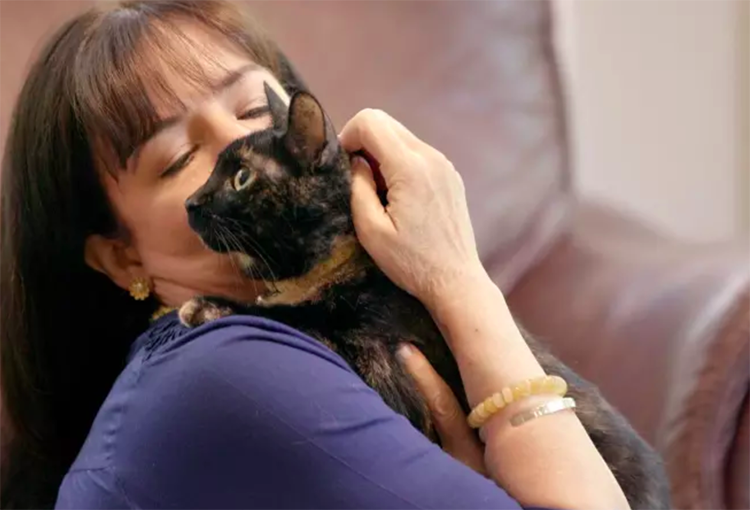 Robin and Mark Myers wanted to share their story to honor Kylie's final requests: to care for her kitten and find a cure for childhood cancer.
"The Kylie & Liza Movie" carries a message of connection and hope, and all of us who have the opportunity to watch this touching video somehow become part of a beautiful purpose.
It's amazing the connection some humans can have with animals.
Below is the emotional video that tells the story of Kylie and Liza's friendship.
It would be wonderful if this message continues its journey and reaches more people. It is a wonderful story of struggle and love that touches anyone. It's amazing what a little animal can mean to a person in their most difficult moments. If only we knew how to value them.