US Army 4th Battalion (Attack Reconnaissance), 2d Aviation Regiment (4-2 AVN), 2nd Combat Aviation Brigade (2 CAB), performed last flight of an AH-64D Apache in South Korea as they completed transition to the new Boeing AH-64E V6
US Army, February 20, 2022 – PYEONGTAEK, SOUTH KOREA by Cap. Frank Spatt and Spc Oscar Toscano – Soldiers from 4-2 Attack Reconnaissance Battalion prepared the last AH-64D Apeche for its final flight and turn in as we complete fielding of the AH-64E v6 on 16 February, 2022, Camp Humphreys, Republic of Korea.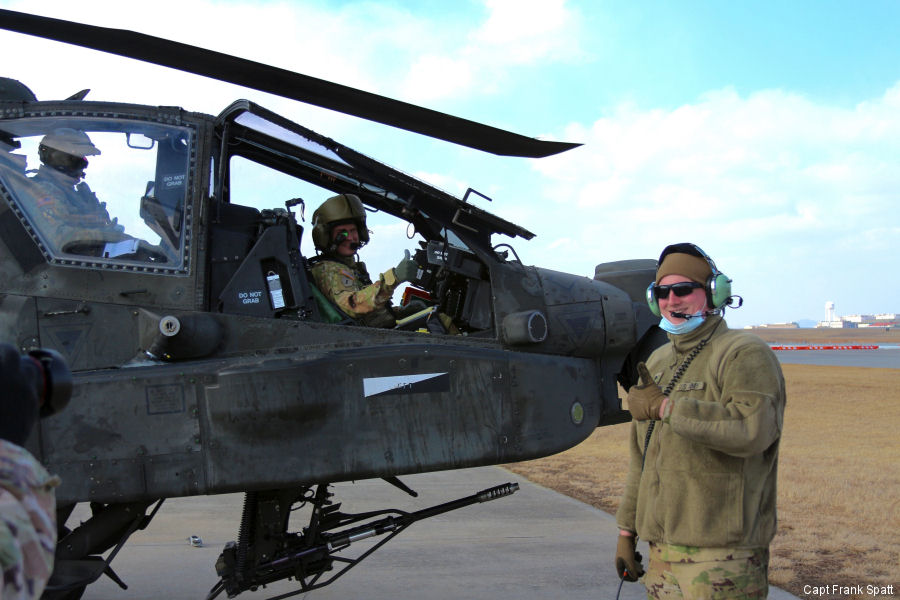 "I've been fortunate enough to fly the Alpha model as well as various versions of the Delta model," said LTC Peter Schmitt the 4-2 Attack Helicopter Battalion Commander.
"This AH-64E v6 is far superior to prior generations when you take into consideration its lethality, its survivability, its performance and its maneuverability. This might look like an Apache aircraft, but its capabilities far exceed its predecessors. It is a different attack helicopter, not only from its prior generations, but frankly against a near peer or peer threat."
The final flight was operated by LTC Peter Schmitt and CW4 Steve Bennett.
US Army in South Korea
The 2d Combat Aviation Brigade, officially Combat Aviation Brigade, 2d Infantry Division, is the air component of the US Army assigned to United States Forces Korea (USFK) based at Camp Humphreys ( Desiderio Army Airfield ), Pyeongtaek, South Korea.
The 2nd CAB structure is
– 2nd Battalion (Assault), 2nd Aviation Regiment ( 2-2 AVN, , "Wild Card" ) flying Black Hawk
– 3rd Battalion (General Support), 2rd Aviation Regiment ( 3-2 AVN, "Nightmare" ) flying Chinook and dustoff
– 4th Battalion (Attack Reconnaissance), 2d Aviation Regiment ( 4-2 AVN, "Death Dealer" ) flying the Apache
– 602d Aviation Support Battalion
1st Battalion (Attack), was decommissioned and replaced by a rotational unit from the continental United States (CONUS)
America Deploys New version Apache helicopter to Korea: