They had never known love nor a roof over their heads. Louie had wire wrapped around his neck like a torture device for a collar. Bridget did all she could to protect him.
In this poignant video, we meet two dogs who are bonded so tightly their souls are woven together. It is narrated by someone very special, their guardian angel and foster mom.
The woman begins, "I saw a picture of them hunched over in the corner, holding onto each other… They looked so broken."
As she continues, the woman says that their owner dropped them off at the shelter and they had no idea why. Can you imagine how scared they must've been?
She continues, "They needed to learn what love felt like. I wanted to be the one to teach them."
Without hesitation, the woman and her husband jumped into the car and raced to the shelter. They knew they were meant to foster the two dogs. They signed them out of the shelter and loaded them up.
The woman first talks about Louie and how timid he was. He'd hide beneath his sister, Bridget, and would shake from fear. Bridget gladly protected Louie. She knew that was her job and she did her job well.
When they arrived at their new foster home, Bridget found her favorite spot on the sofa. She curled up, happily, and slept all day. What a difference from a cold concrete floor! Bridget was able to finally let her guard down since she knew Louie would be okay.
The dogs weren't used to feeling safe. It was obvious that they weren't used to a real home either. Where ever they had been before, it's likely they were kept outside. Their new foster parents had to teach them how to do everything. From crate training to housebreaking, the dogs learned willingly. Especially because they were being taught these new things with love.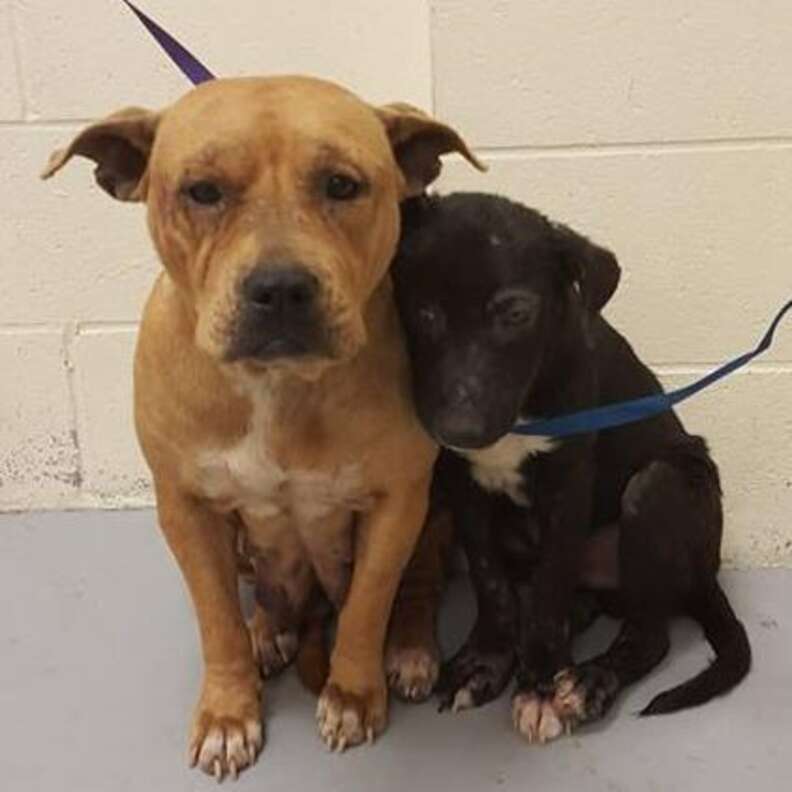 Even though each dog had their own crate, Louie wanted to share it with Bridget and would crawl inside with her and lay as close to her as possible. Their foster parents understood that he just wanted to feel safe and they allowed them to share a crate.
As their guardian angel says next, "But it wasn't until we introduced Bridget and Louie to our dogs that we really saw a change in them." The two dogs that had been through so much trauma could finally focus on just having fun.
Bridget and Louie began adjusting to their new surroundings but the one thing that never changed was their bond. Where one went, the other followed. This never wavered. And now it was certain, they had to be adopted together.
A woman named Monica reached out. She had been following Bridget and Louie online since their very first photo. Their foster mom says, "They wormed their way into her heart before she even met them."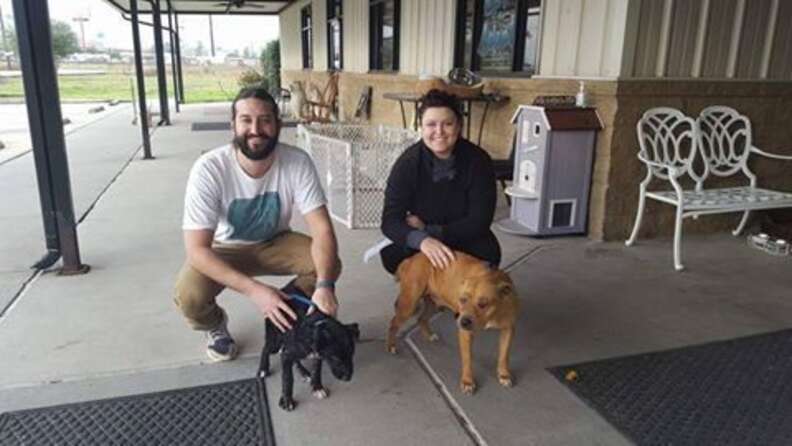 It was an obvious choice, Monica was meant to be their new mom. As sad as it was to say goodbye, their foster mom knew that they would have the best life with her. They were loaded up into the car and made their way to their new home. Of course, this was bittersweet. Their foster mom was thrilled they found the perfect home but she would also miss them.
Bridget and Louie have been in their forever home for a few years now and they've adjusted perfectly. Louie has truly come out of his shell. They are so loved by their forever family. It truly is a foster's dream.
Watch their complete story by The Dodo in the video below. And please, if you have the ability to do so, consider fostering. It's such an important step in a rescue dog's journey. Without fosters, many dogs wouldn't have a place to go or would languish in kill shelters.